Three cheers for Indian culture, say IPL's foreign cheerleaders

Nivedita Sharma
&nbsp | &nbsp New Delhi
17-April-2012
Vol 3&nbsp|&nbspIssue 15
Back home, they are bankers, school teachers or dancers. But many young women have come to India from foreign shores like Ukraine, Russia, Belgium and Norway as cheerleaders for the Indian Premier League (IPL), attracted not by the money but by the country's culture and tradition.
For instance, the Kings XI Punjab team has 13 cheerleaders, 10 of whom are foreign faces. Of the 16 girls cheering the Delhi Daredevils, 10 are foreigners. Most are aged between 19 and 23 years.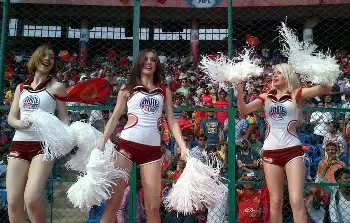 Cheerleaders for Delhi Daredevil team in action (Photo: IANS)
"International cheerleaders are coming here because sports activity has became more intercultural and diverse. We are not here to make money, we have come to see India, experience the tradition, culture and, of course, dancing is part of it," said Yuliya Yahovleva, a dancer from Ukraine who is a Delhi Daredevils cheerleader.
"We are enjoying the IPL season as we are getting a chance to travel a lot," she says.
Oksana Buryank, Natalia Saltykova, Daryna Karhanova, Yuliya Yakovelva, Tanya Ignotsi and Anna Yatskiv are also cheering the team.
Oksana, a gymnastics coach from Ireland, says her family is so fond of Indian culture, people and philosophy that they are proud to see her on Indian soil.
She said: "My mother still watches Indian movies, especially Aishwarya Rai's films. When they (family) see us cheering in India, they feel proud. We enjoy dancing, singing; and what could be the better way to do all these than be part of IPL?"
The IPL has nine teams and the tournament is on from April 4 to May 27. Most cheerleaders for these teams are a mix of Indian and foreign faces.
The fascination for India is such that Ukrainian student Ivanna Prytula, who is among the Delhi Daredevils cheerleaders, is learning Hindi in Kiev University.
Oksana Tunkevyuch, a teacher from Belgium, cheers the Kings XI Punjab team.
"India is a country we always wanted to visit. We wanted to explore different cultures that exist here. The traditional wear, sari, is our most favourite outfit and all of us want to wear it," she said while speaking on behalf of her teammates.
While as cheerleaders, these women have to sport Western dresses, they actually love wearing "traditional accessories such as bangles, bindi, nose rings, necklaces." Last but not the least, the maang tika, along with mehndi on their hands, fascinates them a lot.
The companies that bring these women to India choose them because they are hardworking professionals who do not throw tantrums.
Atul Shrivastava, director of Augustus Communications, which is handling cheerleaders for the Delhi Daredevils and Kings XI Punjab, said: "They believe in hard and smart work and this is what we like about them. Most of them are very polite professionals, with no tantrums, and this makes work easy."
Talking about the selection process, Shrivastava said: "They are hired after the evaluation process which includes interviews and written tests. Also, preference is given to those who are working in a group."
For Saurabh Nagpal, who coordinates with cheerleaders, despite the language barrier, it is easy to work with them.
"They are far more professional and less demanding. If you want them to be on time for practice, they will make sure they reach before time. Yes, there is a communication barrier, but that's fine for us," said Nagpal.
What about their fees?
"The fee structure depends on the circumstances. It is mandatory for companies in India to pay foreign workers at least $25,000 on an annual basis to perform and work. But I won't be able to give you exact figures," said Rohit Srivastav, project leader, Augustus Communications. - IANS


Trending Now: