Indian zoos to be graded, 'unsatisfactory' ones to be shut down

Richa Sharma
&nbsp | &nbsp New Delhi
10-April-2012
Vol 3&nbsp|&nbspIssue 14
Do you know which is India's best zoo? Soon you will, with the authorities planning to grade the nearly 200 zoos in the country based on their performance on different scales. What's more, those faring poorly could even be penalised.
The Central Zoo Authority (CZA), which oversees the functioning of zoos across the country, is in the process of formulating a grading system which is expected to be in place within a month.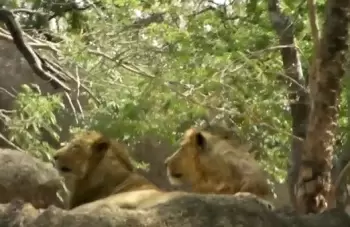 Indian zoos will soon be graded on a scale of 100
The grading will be done on a scale of 100 under categories like sanitation, planning, environment, human resources, animal enclosures and health, education awareness among staff, administration, visitor facility and overall upkeep.
All 198 CZA recognised zoos in the country will be graded by a team of experts and a certificate each based on their performance will be issued.
"We are coming up with a grading system like the one prevalent in Western countries. All facilities in zoos will be measured on various indices and they will be rated accordingly," says B.S. Bonal, member secretary, CZA.
The grading will be excellent (score of 90-100), very good (70-89), good (50-69), fair (30-49) and unsatisfactory (less than 30).
"The zoos falling in unsatisfactory category will be derecognised and would not be allowed to stay open to the public. A timeframe will be given to them to improve facilities, failing which they will be shut down," said Bonal.
The CZA has already discussed the grading system with zoo directors and all have shown interest in ratings.
The grading system will improve the upkeep of zoos as it is likely to develop a sense of competition among various zoos.
The National Zoo Policy, 1998, gives clear directions for the functioning of zoos. It states that the main objective of zoos shall be to complement and strengthen national efforts in the conservation of the rich biodiversity of the country.
"To play the assigned role, the zoos need to have physically, genetically and behaviorally healthy and self-sustaining populations of desirable wild animal species," he said.
This is important not only for display but also as insurance against future exigencies and release/introduction/reintroduction operations in the wild, if required.
To provide financial support, zoos in the country have also been allowed to spend the revenue generated through sale of tickets for upkeep of the zoo rather than depositing in the state exchequer.
The CZA was established in 1992 to oversee the functioning of zoos and provide them with technical and other assistance for their improvement. Accordingly, zoo rules were formulated to fix standards and norms for scientific management of zoos. - IANS

Trending Now: