When you receive a good turn, do pass it on, like Rama
Archanaa R
&nbsp | &nbsp Chennai
05-April-2012
Vol 3&nbsp|&nbspIssue 14
There is an old saying, "When you receive a good turn, do pass it on. It will surely come back to you someday!"
Going with this tenet, K Rama, Social Worker, decided to start Vishvodayaa Trust, an organization that works for the empowerment of women and children's education.
As she puts it, it was her way of reciprocating all the support (physical and moral) that her family had got during their days of troubles in the past. "My husband, an IT professional, consultant and educationist met with an accident. While we were coping with the trauma, a lot of people helped us. Leave alone support, they even donated blood. It was then that I decided to give back to the society in some way or the other," says an emotional Rama.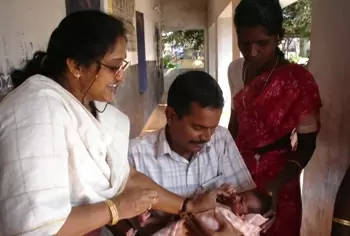 Rama started doing social service as an act of gratitude for all those who stood by her during her moment of crisis (Photo: Conversations)
In 2000, Rama started volunteering with the local residents' welfare association in Madipakkam, where she lives.
"I would write to the Municipal Corporation representing the residents of my locality and ensured that our under-developed locality had access to roads, rain water drains, street lights and other basic amenities. Later, I also started volunteering with the Municipal Corporation for their Polio Vaccination camps and eradication of Encephalitis Camps," she adds.

In 2002Vishvodayaa Trust was registered with three members on its board, and Rama as its Managing Trustee. A nursery school, "Baalyaa" was started in Keezhkattalai shortly thereafter, which according to Rama is the first nursery school in the neighborhood that catered to early childhood education.

"It was here that I started working with Learning Disabilities (LD) first. I am proud to say that our school is equipped with the right people and the right facilities. We follow the Montessori system of education which includes children with LD. Impressed with our work the officers even granted recognition and license to run a primary school!" recountsRama.

Presently, 77 children study in Baalyaa. In this, 25 percent have LD and 40 percent are from lower income groups, most of them being first generation school-goers who study along with children from affluent families.

The school functions on the nominal fee paid by the parents and also on private donations. The school presently operates out of a two and a half ground campus in Keezhkattalai. Vishvodayaa Trust is on the lookout for funders for their upcoming mega project—expansion of the school up to 12th standard.

Vishvodayaa also runs several programs aimed at making women more financially as well as socially independent. Their Teacher-training program has been successful for many years now, with three of their trainees now having set up their independent educational centres. Counseling and vocational courses and workshops are also organized regularly.

"I believe that every one of us is disabled in one way or another. While some of us can overcome the disability because of the close support systems of families; others also need such support to do so.
"Everything in life can teach us a lesson. For me, even my dog has taught me many vital lessons. For instance, dogs or pets seldom show their frustration or anger towards us. They show love and loyalty for the tiniest act of feeding and keeping them. I try and help as many people as possible and in as many ways as I can. It gives me immense satisfaction," concludes Rama. - Conversations


Trending Now: