A sport that started in the fourth century has kept pace with the changing times
24-March-2012
Vol 3&nbsp|&nbspIssue 12
Kambala, a traditional sport of coastal Karnataka, is an annual feature not to be missed in Dakshina Kannada and Udupi districts, for the terrifyingly thrilling spectacle of buffalos pounding across slushy paddy fields!
What started as tradition-turned-sports soon became the pride of rich corporate and political figures. According to people associated with the sport, it flourished under the royal patronage of kings and famous households in Mangalore.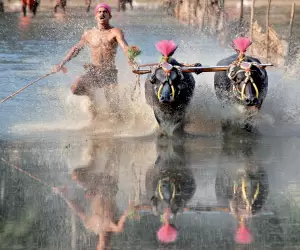 Kambala has adapted to the times and comes with video recording for photo finish contingencies, and third umpiring facilities (Photos: The Sunday Indian)
It is also believed that the Alupa kings conducted Kambala in the fourth century. Kambala is also significant as an occasion that brings together folks from across castes and communities. Steeped in tradition, the sport still hasn't unhinged itself from ritual worship including 'Naga Aradhane', 'Daiva Aradhane' or 'Devathe Aradhane'.

As buffalos race down waterlogged tracks, egged on by strong-muscled farmers who 'surf' behind the beasts while balancing precariously on trailing wooden planks, the Kambala event is a riot of stamina and speed, frenzied cheers, and slick with sweat and slush torsos of jockeys and animals.
Before land reforms happened to the tiller in rural India, the landlords were the richest class who owned huge tracts of land. And the poor tillers/workers, with their buffalos and other equipment, would slog on those fields.
During those times, these landlords held such competitions in the name of pride and money. After 1974 – post reforms – the landlords lost their fields but did not let tradition suffer.
The Kambala continued to receive patronage from the rich and the powerful. Of course, what used to be a race down wet fields is now run on twin tracks, complete with video recording for photo finish contingencies, and third umpiring facilities.
But it'll take more than some fancy makeover to ignore its historical and cultural linkages. "There are inscriptions detailing construction and expansion of Kambala fields, and then financial details for fields lent on lease etc. Earlier farmers used to protect Kambala fields day and night; this custom became a source of income for one class of people," says Gunapala Kadamba, Dakshina Kannada Kambala Samithi Founder Secretary.

18 to 20 Kambalas are held annually in different regions of coastal Karnataka between the months of November and March-April. This year's last Kambala will be held in the first week of April. The season sees more than 200 buffalos in action with every pair of buffalo requiring more than 10-15 men to maintain them.
For the first time in its history, trained jockeys participated in Kambala in its current season. The Kambla Preservation, Management and Training Academy organised a ten-day camp at Shirlal Nalkuru Narasinga Rao Memorial Govt PU College of Karkala Taluk to train the new-generation jockeys in May last year where about 50 students, mostly agriculturists, participated.

This camp, to be held annually hereafter, saw new-generation jockeys, all between 18 and 25, mostly from Dakshina Kannada, Udupi and Kasargod, receive training under the guidance of Yoga experts, NIS-trained coaches, psychologists and experts from the field. Out of the 50 trained jockeys, 10-15 debuted in the Seeme Arasu Kambala held in Mulky on Dec 26 where Kambala teams used freshers.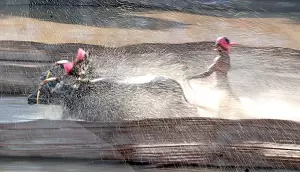 A Kambala participant does not have it easy: he needs a jockey, 10-15 supporters to take care of the buffalos on the way and a vehicle for transportation; he needs to look after the supporters. The sport is about prestige and has never been about earning money from it.

But these days Kambala is splashing some political colours too; there are Congress and BJP Kambalas held at various places. Usually, the local MLA is named President and MP is made Deputy President.

The total expenditure of one Kambala is around Rs. 10 lakhs and that kind of money is usually facilitated with the support of local MLAs. One however hopes the political propinquity does little to despoil the sport of its traditional richness.

By arrangement with The Sunday Indian

Trending Now: