With over 60 shows, Sankalpa has used theatre to prepare convicts for a better life

Marianne de Nazareth
&nbsp | &nbsp Bangalore
15-March-2012
Vol 3&nbsp|&nbspIssue 11
Picture a burly, foul mouthed convict, condemned to life imprisonment for murder, roaming freely in your town as part of a theatre group and then returning to his cell along with prison officials after the show is over.

It seems quite unrealistic that such a thing can happen in this age. But Sankalpa, a theatre group, which has its head office in Mysore, works with prisoners and trains them to perform in plays.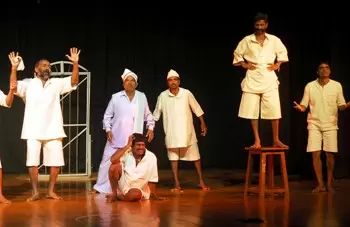 Hulugappa Kattimani believes theatre can be used to reform prisoners (Photos: Saggere Radhakrishna)
Hulugappa Kattimani, the director of Sankalpa, who has rich experience in theatre, strongly believes that theatre is a powerful medium for entertainment and also a vehicle for social change

Sankalpa has been conducting theatre workshops in jails across the state since 1997. These workshops focus on Yoga, meditation, painting, traditional folk arts like kolata, kamsale and other creative learning.

Thirteen years ago, Kattimani studied drama under noted doyen of the Kannada stage – BV Karanth.

Once, when they had gone to enact a play in the Bellary central jail, Kattimani realized that training the prisoners in theatre could change their attitude to life and lead them on a reformative path.

"These are human beings who need to be brought back to the main stream of society," says Kattimani, "and what better way than use theatre to help them back to a life they can be proud of."

In 1997 Kattimani conducted theatre camps in the Bellary, Mysore and Bangalore jails. The trained prisoners soon started acting in his plays. So far, he has staged more than 60 plays with them, including that of Shakespeare's and several written by Indian playwrights.

Many lives are changing. "I told SV Ramesh, a nasty convicted murderer that if he wanted to play Gandhiji, he had to mend his ways and clean up his language. He was a very difficult and uncouth man, but after playing the roles of Gandhi and Basavana, a 12th century reformer, the man stopped his customary crude speech and became a changed man," reveals Kattimani.

"He has also turned a vegetarian and walks barefoot in the steps of the Mahatma."

In early March, Sankalpa conducted a Drama Festival called 'From one Jail to another '. During the four day festival, the following plays were staged: 'King Lear' by inmates of Mysore Central Jail, 'Ward no. 6' by inmates of Bangalore Central Jail, 'Gokaranada Goudashani'by inmates of Dharwad Central Jail, and 'Shivaratri' by inmates of Belgaum Central Jail.

"Special effort was made in selection of the plays, which were all connected to lives of the inmates in some way," says Kattimani.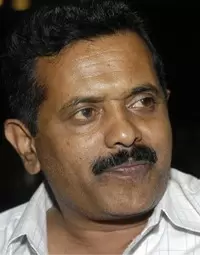 Hulugappa Kattimani
It's been tough for Kattimani and Sankalpa to find funds for the project, but senior IPS officer Gopal Hosur has helped them. Some institutions such as the State Bank of Mysore and the Kannada Culture Department support them now.

It has not been easy going for Kattimani, but the 45 year old, has been supported in his endeavour by his wife who is also a theater person.

Their efforts are bearing fruit. Many prisoners have in fact fallen in love – with theatre.

That's the power of art, as a journalist discovered when he asked an inmate after a performance in Kerala, "You are not handcuffed. You had a good chance to escape. Why did you not choose to do so?"

The inmate had responded, "What a question to ask. If I run away who will do my role?"

Take a bow, Kattimani!


Trending Now: