A movement that uses comic strips to spread social awareness
Nikhil Walia
&nbsp | &nbsp New Delhi
21-February-2012
Vol 3&nbsp|&nbspIssue 7
Comics have long been considered a medium of entertainment, but soon the caricatures may become a powerful medium for campaigning and spreading awareness about various social issues that abound in rural India.
The Grassroots Comics movement is a social venture aimed at empowering the rural populations by providing them a medium of social awareness, which is both simple to create and understand.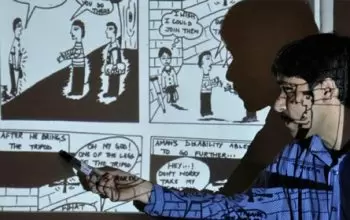 Sharad Sharma trains rural people to draw comic strips (Photo courtesy: Grassroots Comics)
"We go to remote areas and educate the people on how they can express their ideas and thoughts through comic drawings. These people then create their own short comics portraying their issues, and we distribute their works," says Sharad Sharma, founder of the Grassroots Comics movement.
Crudely drawn, the apt little comics in various regional languages cover several social issues such as the unrest in northeast, rights of girl child, use of corporal punishments and child sexual abuse.
Starting from early 90s, Sharma began using comics as a tool for spreading awareness.
"When I started journalism, I left home and headed for north east, where I spent a lot of time amongst the people. I had always felt that these people were the most under-represented of all Indian states," says Sharma.
"During my stay in the north east, I talked to the people directly affected by the unrest in the region. But due to no coverage, their stories never got out into mainstream. Grassroots comics started as a way of bringing out their stories," he said about the origin of Grassroots Comics movement.
According to Sharma, the movement has been slow in taking off but the people have come to realise the power of comics as a tool for creating awareness.
"Now we conduct workshops in all the states of the country. Over past 20 years, we've built a name for grassroots comics and the institutions now call us to come and do workshops. We train the people on how to draw and how to convey their ideas through small comics," he says.
The World Comic Forum is spread in several countries in Indian Sub-continent, Africa and Latin America.
"The World Comic Forum provides a platform for the grassroot comics from all over the world to be shared. These comics are photocopied and then distributed. World Comic Forum has become the first international forum for such comics to be shared," he says. - IANS

Trending Now: