Signs of rift between Jayalalithaa and anti-Kudankulam nuclear plant protestors
11-February-2012
Vol 3&nbsp|&nbspIssue 6
By demanding the removal of atomic scientist M R Srinivasan from the expert committee set up by the Tamil Nadu government to look into the safety aspects of the Kudankulam Nuclear Power Project (KNPP), activists opposed to the nuclear plant have conveyed the message that not all decisions taken by Chief Minister J Jayalalithaa would be acceptable to them.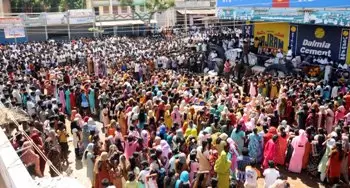 Anti-nuclear power plant rallies have drawn huge crowds at Kudankulam
Not too long ago, it appeared that Jayalalithaa enjoyed the total confidence of the activists, especially after the Tamil Nadu government passed a resolution asking the central government to halt work at the power plant and allay the fears of the local people.

There are signals that relations between the government and activists are beginning to strain.

Activists have requested the Tamil Nadu government to remove Srinivasan from the four-member panel it has set up to look into the plant's safety aspects and add more experts to the panel.

The People's Movement Against Nuclear Energy (PMANE) coordinator S.P. Udayakumar said in a statement: "We are obliged to point out that M.R. Srinivasan, a member of the team, is a well-known pro-nuclear person. He is the former chairman and current member of India's Atomic Energy Commission (AEC)."
According to Udayakumar, Srinivasan was also a member of the site selection committee in the 1980s for KNPP, and has been in favour of nuclear power and the Kudankulam project.
Udayakumar citing Srinivasan's press statements in support of KNPP said: "The people of Tamil Nadu had expected that the state expert team members would be neutral and independent, but Srinivasan is neither. So it is hard for the PMANE to accept Srinivasan."
PMANE has requested the Chief Minister replace Srinivasan with another expert and expand the four-member team with experts in geology, oceanography and hydrology in order to deal with a few KNPP specific issues, said Udayakumar.
Tamil Nadu had Thursday announced the setting up of a four-member expert committee to look into the safety aspects of KNPP and the fears of the local people about the project.
The committee comprised Srinivasan, two professors from Anna University -- D. Arivu Oli, S. Iniyan and retired IAS officer L.N. Vijayaraghavan.

While activists seem to be unhappy with the panel, the central government, on the other hand, is apparently pleased.

"We welcome the state government's decision to set up an experts panel on the Kudankulam project. We request the panel to come out with its report at the earliest," said Minister of State in the Prime Minister's Office V. Narayanasamy.

Meanwhile, residents of Kudankulam and nearby areas complained that frequent power cuts was hampering their routine life for the last few days.

"We are unable to understand the reason for the sudden power cuts. Is there a message in it for us?" wondered Kebiston Fernando, echoing the views of many in the area. - TWL Bureau with inputs from IANS

Trending Now: