Though a Bihari, Ram Vilas Paswan feels for Tamils in Sri Lanka

Akash Bisht
&nbsp | &nbsp News Delhi
13-May-2011
Vol 2&nbsp|&nbspIssue 19
The Sri Lankan Tamils have found a new hope in a rustic north Indian voice in their fight for justice against the Sri Lankan government that recently waged a war killing thousands of Tamilians in the garb of 'war against terror'. This new found support came from Bihar's veteran socialist leader Ram Vilas Paswan who severely criticised the Mahinda Rajapakse led Sri Lanka government for unleashing violence on the Tamils in the island nation.

Speaking in New Delhi at 'Convention on war crimes in Sri Lanka', the veteran politician said that his party, Lok Janshakti Party, would raise the issue of Sri Lankan Tamils in the Indian Parliament and would seek concrete answers.

Reacting to the recent report by United Nations that has just fallen short of calling the Sri Lankan war as genocide, Paswan said: "The UN has given its report and now it should exert pressure and utilise its powers. The Indian government and the Parliament should shun their silence and clearly state their position on the plight of Tamils in Sri Lanka."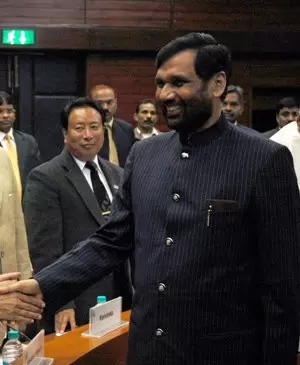 New Spokesperson: Paswan says he will raise Sri Lankan Tamils issue in Parliament and demand the Indian government to spell out its stand on the ethnic issue
Speaking exclusively to The Weekend Leader, he said, "I have recently been told about the kind of violence that has been unleashed by the Sri Lankan state on innocent Tamilians and it was then that I decided to align in this struggle for justice." Blaming the media for not highlighting the issue, the veteran leader said, "Whenever Sri Lanka was discussed only the violent side of LTTE was shown. Except in Tamil Nadu, no one knew what was happening. During the Bangladesh War, Palestine struggle or Osama's murder, media has played a proactive role while this was missing when it came to Sri Lanka."

An established Dalit leader, Paswan's objective has always been to be the messiah of the downtrodden. His journey from a small village of Shaharbanni in Khargia district of Bihar itself was riddled with several struggles. Born in a Dalit family, this cabinet minister in several governments has fought all the odds to emerge as a firebrand leader with massive following across northern India. He has in the past said that being an untouchable has helped him in understanding the feelings of the poorer sections of the society.

In April 2002, he resigned from the Atal Behari Vajpayee government as a cabinet minister for coals and mines expressing resentment over the Gujarat riots of 2002.

Crusader of social justice since his early days Paswan made his debut in Bihar Assembly at the tender age of 23. In his early days of politics, the Naxalite movement attracted this young politician and he was also arrested for his alleged activities. However, his real political awakening happened in 1974 when he actively participated in JP Movement and became a close follower of Jayaprakash Narayan and a member of Janata Party.

Paswan mentions that he was worried about the future of Sri Lanka way back in 1982 when he had declared that the country was heading towards a disaster. "Tamilians are a minority in Sri Lanka and the majority population (Sinhalese) should have taken them along rather than being hostile to them. This hostility backfired and LTTE was born and so was the war," he added.

Overtly critical of the Indian government's role in supporting Sri Lanka in its war against LTTE, Paswan said, "On one hand, the Indian government says that Tamilians are being targeted while on the other you invite Rajapakse as the chief guest on Republic Day. Indian government needs to think seriously and should rise above politics and side with humanity."

After watching a series of videos of the brutality of the Sri Lankan army at the convention, Paswan said that he had to close his eyes when the footage was being beamed on the large screen. "Such conventions should be held all across India, especially in the northern states," he said.
"India's 90 per cent of the population is in favour of secularism and justice, but they don't know the truth. Whenever humanity is in danger everyone is entitled to speak and since innocent Tamilians are being targeted by their own government it's time that we all intervene," he added.

Taking note of what Paswan had said, the organisers of the convention said that they would publish some material in Hindi and would seriously think about holding such conventions across the country.

Also Read

Will Ban Ki-Moon act on the recommendations of the war crimes panel?

Trending Now: