Anna Hazare's man, Agnivesh, an ever green social activist

Akash Bisht
&nbsp | &nbsp New Delh
15-April-2011
Vol 2&nbsp|&nbspIssue 15
Weeks before the Anna Hazare movement took the country by storm, one of the key men behind Hazare's campaign - Swami Agnivesh - sat in his small office at Jantar Mantar in New Delhi briefing media persons on a peace march by a former Jammu and Kashmir militant. The former militant was so overwhelmed by Agnivesh's support that he said: "Swamiji is a great man; he helps those who are neglected by all."
Yes, Agnivesh (71) is not new to rightful crusades. He played a phenomenal role as a mediator in the Anna Hazare campaign against corruption. He and Arvind Kejriwal were the key negotiators on behalf of Hazare and forced the government to accept their demands.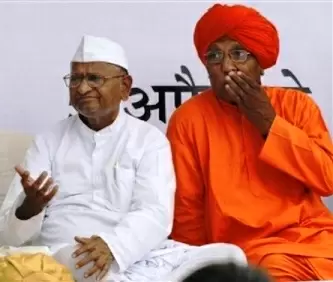 Raising hopes: Agnivesh and other activists who played a key role in Anna Hazare's movement have raised hopes of a corruption free India
The 'Swamiji', as he is addressed by his admirers who have seen him fight all kinds of evils that pervade the society, is best known for his work against bonded labour in the country. An unorthodox guru, he has time and again been at loggerheads with the government. Fighting various battles for the poor, weak and defenceless, he has led successful campaigns against alcoholism, female foeticide, bonded labour, child labour and also for emancipation of women.

When the whole country was going overboard on the question of Naxals and the confrontation between the Red Ultras and the State came out in the open with hundreds of casualties from both sides, it was Agnivesh who offered an olive branch to both the warring parties and said he was ready to mediate. His efforts, though, proved futile when CPI Maoist spokesperson Azad was killed in an alleged fake encounter.

His followers say that Swamiji leads and inspires and preaches what he practices. They believe that he bridges politics and religion with the plank of social justice. "My saffron garb is my uniform for socio-spiritual action, a call to battle on behalf of the oppressed. Saffron is the colour of sacrifice, commitment and purity and I believe that it helps me in my work of love, truth, compassion and justice. If my clothes come in the way of this, I won't mind renouncing them," says Agnivesh.

Born in a well off Hindu family in Sakti, Chhattisgarh, Agnivesh before taking monastic orders was known as Shyam Vepa Rao. A law and economics graduate from the University of Calcutta, he also taught business management at St Xaviers College, Kolkata, before migrating to Haryana to join the Arya Samaj.

Later, Agnivesh and Swami Indravesh founded Arya Sabha, a political party, based on the Arya Samaj principles. His party merged with Janata Party post Emergency. He was elected to Haryana legislative assembly in 1977 and served as a State Minister for Education from 1979 to 1982.

However, his stint with active politics came to an end when Agnivesh protested against police firing on workers protesting bonded labour. He was asked by the government to "shut up and stick to education" and it was then that Agnivesh decided to quit his ministerial berth.
He then established the Bonded Labour Liberation Front (BLLF). Since its inception, BLLF has rescued several child bonded labourers and has trained many young activists. Agnivesh is also the Chairperson of the UN Trust Fund on Contemporary Forms of Slavery and president of the World Council of Arya Samaj.

Agnivesh is delighted at the success of Anna Hazare's movement, with the government forced to set up a joint committee including civil society activists to draft the anti-corruption bill. He termed it as victory of the people and said "we should move ahead with hope."

Wish to share your story?
Trending Now: