Politicians watch out, civil society gears up for a movement against corruption

Kavita Kanan Chandra
&nbsp | &nbsp Mumbai
31-January-2011
Vol 2&nbsp|&nbspIssue 4
Azad Maidan in Mumbai, a historic venue in the freedom movement against the British rule, witnessed the birth of a new movement on Martyr's Day as socially conscious citizens of the bustling metropolis came together to sound the battle cry against rampant corruption in independent India.

The rally, which marked the birth of a mass citizen's movement against corruption, was attended by hundreds of citizens, RTI activists, retired police officer Julio Ribeiro, IPS officer turned anti-corruption activist, Y P Singh, representatives from Baba Ramdev's Bharat Swabhiman Party and Sri Sri Ravishankar's Art of Living Foundation.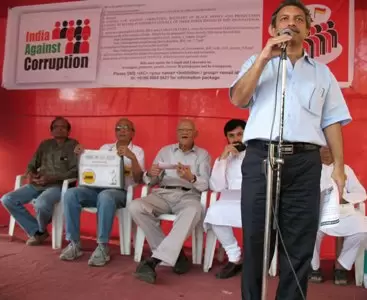 Calling the bluff: Speakers at the India Against Corruption rally urged the Centre to consider the citizen drafted Jan Lokpal Bill instead of the one proposed by it, which they said had loopholes to help the corrupt get away
Praful Vora, convenor of Jagrut Nagrik Manch Movement had announced that people from all walks of life would gather to protest against corruption and the crowd turned up with placards and banners condemning corrupt politicians and demanding severe punishment for those guilty of pilfering the nation's wealth. G R Vora, an RTI activist, said that such protests against corruption took place in thirty more cities in the country.

'India Against Corruption', which aims to enable citizen groups to fight against corruption at all levels of government, demands a strong law against corruption, recovery of black money, and quick prosecution of those found guilty in corruption cases.

Speakers at the event highlighted the need for vesting enough power with the Lokpal and Lokayukta to investigate, prosecute, punish, recover ill gotten gains and make the system transparent.

Julio Ribeiro spoke about the need to empower the Lokyukta in Maharashtra and insisted that a meaningful Lokpal Bill should be brought in Parliament. He also spoke about the need for police and judicial reforms. He said that if the Central Vigilance Commission and Lokayukta were given direct powers to prosecute, it will bring down political interference and reduce corruption.

Y P Singh, the IPS officer turned advocate who has been fighting cases against corruption questioned how the names of former Chief Ministers (Sushil Kumar Shinde and Vilasrao Deshmukh) were not even mentioned in the FIR relating to the Adarsh scam case.

The members of Jagrut Nagrik Manch said that the Lokpal Bill drafted by the centre had loopholes that would enable the corrupt get away and wanted it to be replaced by a Jan Lokpal Bill, drafted by prominent citizens like retired police officer Kiran Bedi, advocate Prashant Bhushan, former Supreme Court judge Santosh Hegde, Arvind Kejriwal (Magsaysay award winner) and J M Lyngdoh (ex chief Election Commissioner).

Banners bearing slogans demanding severe punishment to corrupt politicians and the symbolic tearing and burning of the first page of Lokpal Bill were some other highlights of the event that seemingly marked the beginning to a nation-wide movement aimed at liberating the country from corruption and corrupt politicians.

Wish to share your story?
Trending Now: