Helping 27,000 women become self-reliant every year

Kavita Kanan Chandra
&nbsp | &nbsp Mumbai
16-December-2010
Vol 1&nbsp|&nbspIssue 16
It might not be easy for a woman in her twenties, born and brought up in bustling Mumbai, to shift to a backward village. But Chetna Gala Sinha did precisely that when she moved to Mhaswad in the Satara District of Maharashtra in 1986, driven by love and idealism.

Today, she has no reason to regret the switch as the last 24 years have seen the founder and Chairperson of a women's cooperative bank called Mann Deshi Mahila Sahkari Bank going places, meeting people, and picking up laurels.
Whether putting her point across in the panel discussion at the recent 'Women mean Business Conference' by Cherie Blair Foundation for Women in Mumbai or motivating illiterate women in remote villages to become entrepreneurs, Chetna does it all with aplomb.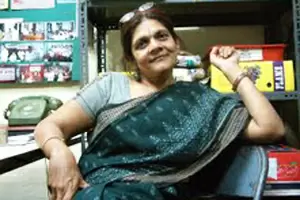 24 years ago
Chetna Gala Sinha
shifted to rural Maharashtra from bustling Mumbai to work for welfare of villagers
She took the plunge into social work as socialist leader Jayaprakash Narayan's call to Indian youth to dedicate their time in building villages struck a chord in her. A postgraduate in Commerce she was a member of JP's 'Chhatra Yuva Sangharsh Samiti' (student committee for struggle). During her days of activism she met her husband Vijay Sinha, a farmer, who shared her views on social reforms.
With 127000 rural women as members, Mann Deshi Bank is India's first rural financial institution to receive a cooperative license from RBI in 1997. It's a bank run by the women for the women.

Chetna recalls how she took 700 thumb impressions of women and a shareholder capital of Rs 60 lakh to the RBI, which refused a license. The undaunted women went the second time with some knowledge of reading and writing.

When questioned if they could calculate interest on any principal, they challenged the officers that they could do it faster than them.
It was all due to Chetna's dedication to the empowerment of rural women. She first provided the women in impoverished areas both financial and non-financial services, though the challenges were many in the drought affected areas of western Maharashtra. With an annual rainfall of only 5 inches and illiteracy rate as high as 65 per cent, Satara district's 75 percent population lived below poverty line.

The school dropout rate was 50 per cent and with men migrating to other places for jobs, the women were caught in a vicious debt trap paying usurious rates.

The bank was started to help such exploited and hapless women. It now has six branches and 12 foundation offices in ten districts of Maharashtra and Karnataka. With assets over Rs 40 crore, and a share capital of Rs 3.5 crore, the bank provides services like loans, savings account, insurance and pension plans.

Then Mann Deshi Foundation provides financial and business management training to clients, runs community radio and holds farming workshops. Then Mann Deshi Mahila Bachat Gat Federation oversees 2462 self help groups thus helping rural women entrepreneurs.
"Every year 27000 women start small businesses and become self-reliant," says Chetna. They have started doorstep banking and plan to introduce e-card technology for their banking operations.
Chetna has done pioneering work in drought affected regions of Maharashtra. Recognition has come her way in plenty. The Yale University has appointed her as a World Fellow in 2002, Harvard University recognized her as a bridge builder in 2003 and recently she was one among the seven entrepreneurs to have met US President Barack Obama in Mumbai.


Trending Now: