Raising awareness on putting an end to manual scavenging

Partho Burman
&nbsp | &nbsp New Delhi
12-November-2010
Vol 1&nbsp|&nbspIssue 11
When he went to register his name with the employment exchange, he was offered a job. Not only did Bezwada Wilson turn down the offer, he also vowed to ensure that no one did that work. Thus began his campaign to eradicate the uncivilised system of manual scavenging.

Wilson, who was born in a Dalit family in Kolar district of Karnataka, was traumatised when he was asked to do manual scavenging just because his parents were doing that work. Since then he has been fighting against discrimination.

Now 44 years old, Wilson, who was behind the starting of Safai Karamchari Andolan (SKA), which campaigns against manual clearing of human waste, is a post graduate. He hopes to wipe out the practice of manual scavenging completely from India by end of this year, with an intensive strategic programme called 'Action 2010'.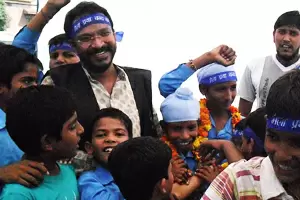 The Liberator: Bezwada Wilson wants to eradicate manual scavenging by end of the year and wants the Indian government to apologise for exploiting the Dalits
Safai Karamchari is a community based unregistered organization, which works in 18 states in India to liberate the community of scavengers and facilitate their rehabilitation. Wilson says that the grimy sight of people of his community carrying human waste at Kolar gold field disturbed him so much that he decided to work for their liberation. He has been engaged in this campaign since 1982.

SKA recently conducted a month-long "Samajik Parivartan Yatra", which aimed at liberating Safai Karamcharis. Scavengers across the country, for the first time, travelled together through 20 states to motivate and inspire those who are still engaged in manual scavenging. The Bus Yatra, flagged off on September 30 from five different points across the country - in Jammu and Kashmir, Assam, Tamil Nadu, Orissa and Uttrakhand - culminated in Delhi on 29 October.

The yatris conducted street and community meetings in all prominent locations in state capitals, rallies, dharnas, and burning of baskets. They also held meetings with local, district and state officials and the media. Wilson also travelled with the activists.

There are an estimated 3.5 lakh scavengers in the country - 82% of whom are women. Scavengers are customarily from the Dalit communities, who have faced discrimination for generations. They are made to carry human excreta from dry latrines. "Our people suffer from severe health problems while working in foul conditions. The disgusting odour compels them to restrain their breathing for extended cycle, which damages their respiratory organs," says Wilson.

Despite its ban under 'Employment of Manual Scavengers and Construction of Dry Latrines (Prohibition) Act 1993', the practice continues in Uttar Pradesh, Madhya Pradesh, Rajasthan, Gujarat, Bihar, Jharkhand, Chhattisgarh, Orissa, West Bengal, Tamil Nadu, Karnataka, Andhra Pradesh, Punjab, Haryana, Maharashtra, Uttarakhand and Jammu and Kashmir.

Pointing out how the Indian Railways continues to practice manual scavenging, he says: "Instead of manual scavenging, railways can use 'high pressure water pipes and install modern travel toilets like those found in aeroplanes."

"The discrimination against us is evident. We demand an official apology from the Government of India for violating the human dignity and human rights of Safai Karamcharis," says Wilson.
Wish to share your story?
Trending Now: