Rolex Award winner to spend prize money on helping accident victims
Partho Burman
&nbsp | &nbsp New Delhi
04-November-2010
Vol 1&nbsp|&nbspIssue 10
In 2009 he started Save Life Foundation (SLF) after a 16-year-old cousin lost his life in a mishap in Kanpur since nobody had volunteered to rush him to a hospital while he lay bleeding for 45 minutes. SLF offers essential life saving assistance to victims of road accidents. For his selfless contribution to human health and welfare, he has been conferred the prestigious Rolex Award for Enterprise Young Laureates Programme 2010. Now, he is all set to open a round-the-clock Call Centre for the victims of street accident with the cash prize of US $50, 000.

Meet Piyush Tewari, the 30-year-old graduate from Delhi University, who is the operation head in a Private Equity Funds. "The 24x7 call centre, to be started next year, will locate trained volunteers close to the accident spot and mobilize them to rush emergency help to the accident site. Our volunteers will provide basic care with the help of local police," says Tewari.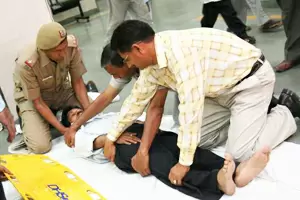 Saving lives: Piyush Tewari's team trains Delhi police in treating victims of road accidents
Talking about the demise of cousin Shivam Bajpayee, he says the life of the teenager could have been saved, had people rushed him to hospital soon after a vehicle knocked him down on April 6, 2007.

"We have seen injured people bleeding and waiting for help. Although many people stand surrounding them, seldom does one help them," says Tewari, who decided to change it all and launched SLF, which trains Delhi Police officers and volunteers to give speedy treatment.

There are two types of fundamental training. First, the cardiopulmonary resuscitation training (to revive breathing) and the second is trauma care (to control excessive bleeding) by using a large piece of cloth and applying pressure on the wound.

As result of the training, Delhi Police had rescued 51,000 people with survival rate of about 93% compared to 2008 when 17, 000 people were saved with 85% survival rate.

SLF is backed by AIIMS Trauma Centre, Apollo Hospital, Max Hospital and Fortis Hospital as partner hospitals, which provide training on medical skills. People stay away from helping victims because they don't want to get involved in a legal tangle. It's more fear than shrugging off their responsibility, says Tewari. SLF aims to educate citizens that those helping road accident victims cannot be legally implicated in any case.

With 1200 registered volunteers, SLF aims at a volunteer base of 12,000 by mid 2012. Though, it already has units in Uttar Pradesh, Madhya Pradesh and Maharashtra, it plans to expand across the country. SLF has also expanded globally having set up a similar programme in Nigeria and Philippines.

Recollecting the moment he received the call from Rolex headquarters, he says: "I hadn't expected that an organization, which is less than two years old, would be recognized globally. It was a great moment for me and my entire team."
Wish to share your story?
Trending Now: