A woman's courageous fight despite all odds to save unfortunate children

Sudha Narasimhachar
&nbsp | &nbsp Bangalore
08-October-2010
Vol 1&nbsp|&nbspIssue 6
Saving neglected children and rescuing those trapped in inhuman working conditions are not just the aim of Chiragu, an NGO formed by seven socially conscious people in Karnataka. They ensure that the children are rehabilitated and given an opportunity to pursue a career like any other child. But what makes one of the founders, Saroja, stand out as a child rights activist is that she embarked on the project overcoming a series of personal tragedies.

Born in 1954 in the steel town of Bhadravathi, Karnataka, Saroja was married off at the age of 17 after she had passed her eleventh standard in school to S L Satyanarayana, a journalist with socialist leanings. The couple had two sons. But Saroja went into depression when her 2-year-old elder son had epilepsy. Satyanarayana got her treated for depression and then introduced her to the wonder-land of literature. He encouraged her to continue her studies and she completed her graduation. Later, she worked as a teacher. Since she read a lot of socialist literature, she set high personal ideals and goals for herself. Her heart always looked for the burning issues around her.

In 1994, she quit her teaching job and joined 'Samashti', an NGO working for the development of women and children, as a researcher. She went to the silk industries in Magadi to study the state of children employed there and that was the turning point in her life. She saw how children as young as eight and nine were exposed to social and health hazards and wrote a heart-rending thesis titled 'Yelegalondige Yeleyaru' meaning 'Children with Threads'. She master-minded the Child Labour Campaign launched by Campaign Against Child Labour, who filed a public interest litigation against the Magadi Silk Industries.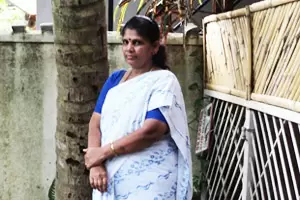 Her husband met the fate of any whistle-blower in the country - he was brutally murdered. But Saroja continues her campaign against child labour
In 1997, she faced a personal catastrophe when her husband met the fate of any whistle-blower. He was brutally murdered. Samashti suspended its work in Magadi. Saroja went into a depression for a while but was back in action in 1998. She, along with six other like-minded women, formed 'Chiguru'. In 1999, Chiguru, along with other NGOs, Government of Karnataka and UNICEF launched a massive campaign to eradicate child labour in the silk industry of Magadi.

"We now have 35 girls in the hostel, 50 children (both boys and girls) in the foster kin-care project and 35 children under the sponsorship project. Foster kin-care project is a very innovative project. A child saved from bonded labour is handed over to some close relative like grandfather, grandmother, uncle or aunt – someone who is willing to take good care of the child. The Government grants Rs.500/- per month to the relative and we supervise and keep track of the child's welfare," says Saroja.

The small town of Magadi had around 1000 silk factories but today there are just 200 factories. "There are many reasons for this drop in the number of silk factories like changing market trends, failed crops of mulberry, and so on, besides our vigilant supervision against child labour. But the industrialists feel our campaign is the main cause for their present state. We are not against anybody. We only want to ensure that every child gets all its rights and enjoys childhood," says Saroja, who came to be known as Magadi Saroja because of her passionate work in Magadi.
Wish to share your story?
Trending Now: