Reaching out to all those who need legal aid

Renitha Raveendran
&nbsp | &nbsp Kozhikode
01-October-2010
Vol 1&nbsp|&nbspIssue 5
When four students of the Government Law College in Kozhikode in Kerala realised that there was a widening chasm between the common man and the law and that instances of human rights violations were on the increase in their locality, they decided to do something about it and thus was born HELP (Humanity Enhancement through Legal Protection).

Three years later, after they had all passed out of college, they are soldiering on 24 X 7, providing legal help to the needy with more of their friends chipping in. They now deal with nearly 600 cases a month and attend hundreds of phone calls a day from people needing help and guidance.

To start with, the close friends – C K Pramod Kumar, V K Shinil, Roshi and Kalarani – got together and intervened in a couple of cases of gross human rights violations. They made a mark when they took on the government by filing a Public Interest Litigation (PIL) on the conditions of houses built for the Muthuva communities at the Mailadikkunnu tribal colony in Nilambur. "Most of the so-called completed houses didn't have proper roof and doors. We were surprised to see the newly-built houses in such bad condition. We started a movement for the tribals and submitted a petition to the Legal Service Authority. Our PIL in the High Court led to an order that the houses be rebuilt. An enquiry is also on now," says Pramod.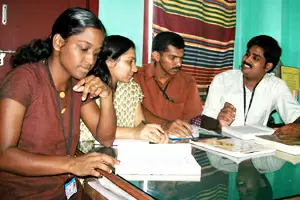 C K Pramod Kumar, V K Shinil, Roshi and Kalarani – saviours of the poor
They were taken note of seriously when they involved themselves in the case relating to the Kerala Registration of Marriages (Common) Rule 2008, which first said that 'any marriage legally occurred should be registered in the panchayat'. Since some panchayats misinterpreted 'marriage' as one that happened between persons from the same community/religion alone, many faced problems in registering their marriage. "Our petition led to issue of another order clarifying that any marriage that had legal sanctity should be registered in panchayats," recalls Kalarani.

Now they offer a wide range of free services like legal advice, counselling, fighting court cases and filing PILs. "We get so many enquiries from places far away like UK, US and Gulf Countries in addition to large number of cases from Kerala and Tamil Nadu. Most people approach us as a last resort. Our clients are mainly poor who either can't afford an advocate fee or have already spent a huge sum battling the case and become a pauper," adds Pramod. Cases relating to marital issues and civil matters are settled out of court.

They also have like-minded lawyers working for them in other parts of the state. The major challenge they now face is finance. They manage it by taking tuition for students - both legal and other subjects- and conducting classes and seminars for different organizations. Some people donate after seeing their work but they don't demand anything other than court expenses. While a practicing lawyer could charge anywhere between Rs 4,000-8,000 fee for a domestic violence case from a client, HELP takes only the court expense of about Rs 500.

All of them are in their 20s and have great dreams for the future. They would like to focus on medical negligence and would someday start an institution that imparts legal knowledge to the common man.
Wish to share your story?
Trending Now: