A child crusader on a mission in the rural heartlands of Jharkhand

Santosh H K Narayan
&nbsp | &nbsp Ranchi
24-September-2010
Vol 1&nbsp|&nbspIssue 4
Nikita is just over 14 years. But she is on a mission to create awareness on human trafficking, particularly the practice of pushing young girls into commercial sex. Since many children from impoverished home in rural heartlands are lured to the big cities with promises of education and good life, only to be sold to racketeers in the flesh trade, Nikita visits interior villages in Jharkhand and sensitizes the people. She has already addressed more than 30 meetings with the support of an NGO and reached out to many parents.

But what makes Nikita's talks impressive is the fact that she herself was a victim of a trafficking racket. So, her past struggles and the present commitment makes people take her message seriously, which acts as a safeguard against more girls falling into a quagmire that almost trapped her.

Earlier, she was a fun-loving girl at home with three sisters and two brothers. Her father worked in the fields and despite doing hard labour failed miserably in providing for the family. The penury at home paved way for Nikita's so called 'bua' (paternal aunt) sneaking into her territory. "She used to come to our house. That day she came and advised my father that she wanted to take me to Delhi where I would get education, good food and healthy environment to grow-up," she recalls.

So, one fine morning, two years ago, Nikita left her parents with three other girls of adjoining villages for Delhi carrying hopes of good fortune and future ahead. However, her dreams were shattered soon after as she reached Haryana and not Delhi. "I never saw a school over there. I used to work in the houses as maidservant. They often beat me up and would not give enough food," she says.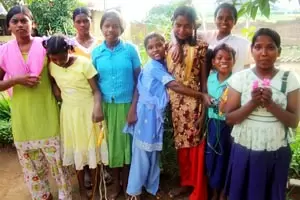 Young crusader: Nikita is on a mission to spread awareness about child trafficking
The situation took a dramatic turn one night when the 'bua' sent her to a businessman's house. But that infused commendable confidence into Nikita. She fled from the place and somehow managed to reach a police station. She could not even tell the exact location of her village and just uttered Gumla in Jharkhand. Police contacted Bhartiya Kisan Sangh, an NGO.

Now Nikita lives in Kishori Niketan, a shelter home run by BKS at Bijupara, about 40 kilometers away from Ranchi with about 30-odd girls rescued from similar kind of horrifying situations. She has joined hands with campaigners against human trafficking, visiting the interiors of the State where human poachers have a free run. She has now become a sort of 'brand ambassador' against child trafficking. When she narrates her horrifying tale to parents and children of villages, it strikes a chord with her audience.

"Villagers listen to her very carefully. She is very impressive in bringing the issue of child trafficking to public domain as she identifies herself as one of them. Her experiences make the villagers aware about the issue," said an official of Social Welfare Department.

"Girls are considered burden. My parents also thought like that and sold me. I want to tell that girls are not animals. They have talents," she says. Her efforts are bearing fruit as two touts, who came to buy girls, were caught and handed over to police at Chanho, near Ranchi. Child protection committees have been formed in many villages with the Gram Pradhan, and other village elders as their members.

Nikita still cannot recall the name of her village. But it does not bother her. She has a family at Kishori Niketan and a task at hand.

Wish to share your story?
Trending Now: