Arming Kashmiris with another powerful weapon — the RTI

Jehangir Rashid
&nbsp | &nbsp Srinagar
10-September-2010
Vol 1&nbsp|&nbspIssue 2
Dentists talk only about oral health and hygiene? No. Not at least Dr Raja Muzaffar Bhat, who grits his teeth when he hears about someone being denied basic rights. Everyday, the dentist closes his clinic in Kashmir's Budgam district by afternoon and visits people in far-flung areas just to help them get their dues by using a potent weapon called the Right to Information (RTI) Act.

Though he cut his teeth in social activism while he was a BDS student in Karnataka, the activist in him turned a crusader, prompting him to start the RTI movement in 2005, after he set up the clinic.

"I belong to Chadoora area in Budgam district. As this place is centrally located, people from far-flung areas visit my clinic and many of them narrate their tales of woe on the lack of basic facilities," says Dr Muzaffar.

"I was astonished to see deserving families left out under the Indira Awas Yojana (IAY) and the tin shed provided to well -off people. Below Poverty Line (BPL) ration cards were issued to people living above the poverty line. Revenue extracts were issued to people only if they paid a bribe. Those who dared to raise their voice against the indifferent attitude of officials were put behind bars," says Dr Muzaffar.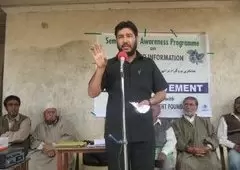 He was forced to sell his car, but he carries on his crusade
So he devoted his time on filing RTI applications and also motivated others to do it. The movement's high point was when one of its activists, Dr Shah Faesal, topped the Civil Services examinations in 2009.

But at the ground level, there have been many success stories. "Khatee Begum, a 45-year-old widow of Hanjura village managed to get a tin shed under the IAY and irrigation workers at Marval in Pulwama district were paid their wages that were pending for two years only because the RTI applications were filed," recalls Dr Muzaffar.

It was also the case with people in Hajam Mohalla of Branwar, who did not have access to clean and potable drinking water. The intervention of RTI Movement led to the laying of 20 water supply pipes. In Branwar, where BPL cards were issued irrationally, the RTI activists carried out an exercise to identify real beneficiaries and 50 percent of the BPL cards were cancelled.

The movement forced the National Conference-Congress coalition government of Jammu & Kashmir to make public the draft bill of the amended RTI Act in the state. Now the Act is a different one and it gives more teeth to people in accessing information about implementation of schemes, programmes and developmental works carried out by various government departments.

The movement itself has spread beyond Budgam district and awareness programmes were recently held in Doda, Rajouri, Poonch, Kargil, Leh, Anantnag, Baramulla and Pulwama.

But all the activism did not come without a price. Dr Muzaffar could not spend time in his clinic and suffered financially. He was even forced to sell his car.

Now he gets a monthly aid of Rs 13,000, thanks to the Chief Information Commissioner, Wajahat Habibullah, who used his good offices to get Dr Muzaffar a fellowship from the Commonwealth Human Rights Initiative.

Dr Muzaffar thanks those who stand by him in the movement. He makes special mention of Dr Shaikh Ghulam Rasool, who is working with the Border Area Development Programme's Mobile Medical Team, Dr Ghulam Rasool from Gujjar village of Branwar area, Deputy Commissioner of Budgam, Mohammad Rafi and Block Development Officer Khan Sahib.

Wish to share your story?
Trending Now: