Go for the vulnerable spots, you will not be vulnerable

02-March-2011
Vol 0&nbsp|&nbspIssue 1
Remember this golden rule: Size does NOT matter.

Size is intimidating, yes. No doubt about that. But KravMaga believes survival in the street is not just about mass alone. The balance can be tilted against a larger adversary with a bit of common sense and basic understanding of body mechanics.

WHAT DO WE WANT TO ACHIEVE IN AN UGLY SITUATION
You are walking home late at night after a hard day's work. You are hungry and mentally exhausted. And, this big guy rushes out of nowhere and tries to snatch your laptop. Your body and mind seem to be disoriented, under the combined effect of shock, fear, anger and frustration.
Looking at his size, you realize you can't wrestle with him. You neither have the energy nor the grappling skills. You punch him blindly in his body for all your worth; he doesn't even notice it.
Wrestling or punching the body will NOT save you; moreover, it will only prolong the confrontation. Since there is no referee to stop the fight, you are clearly in deep soup; most probably nursing bruises and lamenting lost data.
Having painted that grim scenario, let us look at how you would deal with a similar situation, the KravMaga way.

D.O.N.E - DEFEND > OFFEND > NEUTRALIZE > EXIT
In an ugly situation like this, KravMaga's simple dictum is 'Practice D.O.N.E'.
D.O.N.E is all about targeting an adversary's vulnerable spots. But vulnerable spots are not to be confused with 'vital spots.' Vital spots like heart, lungs, brain, liver, intestines and kidney are critical to life functions. Hitting these spots can result in collateral damage, and even worse - fatality. You are not interested in defending a murder charge, are you? So forget hitting internal organs.
This write-up is to educate you on stopping a confrontation ASAP, not maiming or killing.

WHAT ARE THE VULNERABLE SPOTS IN THE HUMAN BODY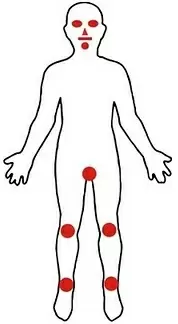 Marked: The vulnerable spots in the human body (marked in red)
1) Eyes
2) Nose
3) Mouth
4) Chin
5) Groin (Testicles)
6) Knees
7) Ankles

Let us now examine why we call the above as 'vulnerable spots' and see the advantages in targeting them.

1) THEY ARE EASY TO REACH
All these spots are on the surface. It does not take years of practice to hit them.

For instance, everybody knows solar plexus is a good spot to bring down an opponent. But hitting it requires precision and angle, which is acquired over a prolonged practice. Even if you have the skills to hit the solar plexus, if the opponent has a beer-belly, you can't reach it.

2) THESE PARTS CANNOT BE EXERCISED AND TOUGHENED
There are no popular body building exercises to strengthen the testicles, nose or eyes. I have heard of some exotic methods, but they are not for common men.
So even if the opponent is bigger and stronger, these parts would still remain vulnerable, as they would for a person of smaller build.

3) THEY ARE HIGHLY SENSITIVE TO IMPACT
Except the groin, all the vulnerable spots have bone on the surface. But groin is also painful because it has nerve endings bunched together on the scrotum.
So, intimidating pain is assured by hitting vulnerable spots.

4) HITTING VULNERABLE SPOTS IMMOBILIZE THE ATTACKER
A confrontation ends not just with defending and offending, but by 'neutralizing'. That, in simple English means, the opponent should lose the capacity to attack and be unable to follow you or get assistance. Only this will give you the crucial window to exit effectively from the scene.

In these times, it also helps to remove the cell phone from him and throw it far away.
Krav Maga is all about common sense!

The writer is a Krav Maga instructor based in Chennai. Krav Maga is a practical self-defense art which prepares you in a short duration for street reality – where there are no rules

Wish to share your story?
Trending Now: