Jallikattu adapts to changing times, sport here to stay

Senthil Kumaran
&nbsp | &nbsp Photo Editor | TWL
21-January-2011
Vol 0&nbsp|&nbspIssue 1
All of us in Madurai, the cultural capital of Tamil Nadu, look forward to the annual Jallikattu (bull taming) event in the two villages of Palamedu and Alanganallur. It has been part of our tradition for hundreds of years.

For last few years, people living outside Madurai, in faraway places, have taken a judgemental view of the sport. They say bulls are being treated cruelly and so, jallikattu has to be banned.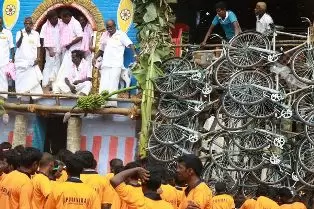 Prizes for the taking: Players who are able to hang to the hump of a charging bull till the 30 feet mark in the arena are declared winners and are showered with prizes like gold coins, steel bureaus, and bicycles. .
The demand is like asking for the baby to be thrown out with the bathwater.
It is true that the sport had at one point degenerated to the extent that instances of rubbing chilli powder on the eyes of the bulls to make them more aggressive became common.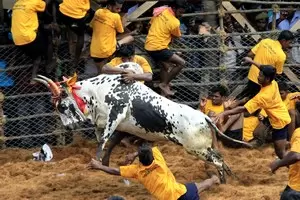 He is a winner!
But awareness has crept in. People are changing. Both the public and the players are conscious about the sensitivities of animal lovers and they are taking note of it.
The government has tightened regulations and the game is acquiring a modernistic avatar.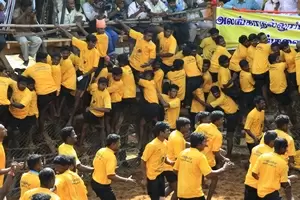 It's sometimes 'wait and watch', and other times 'hide and seek' for players eager to tame the bulls
Nowadays, it's hard to spot players pulling the tails of animals or the bull owners applying chilli powder on the eyes of the animals.

This year, the players were all in uniform and well-disciplined. Only those above 21 years of age were permitted to take part in the event.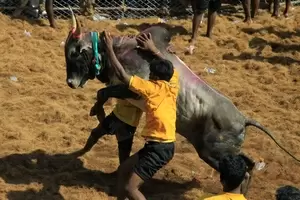 This is sheer bull's strength!
Animals were checked thoroughly for any sign of cruelty before they were let into the arena. Doctors ensured that neither players nor animals were under the influence of alcohol.

Educated youth, including software professionals, are taking part in the game. They take pride in their culture.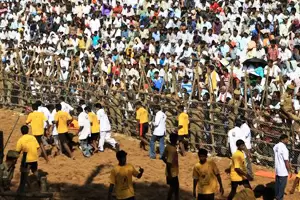 Doctors rushing an injured player for treatment
Medical help was available to injured players. Ambulances were on stand-by to rush the seriously injured to hospitals.
No wonder, the number of injuries and casualties has dropped drastically in recent years – for the record, 1 person died, and about 180 persons suffered injuries in the two events.
The sport is attracting more and more foreigners each year. And none of them feel it is a cruel sport.

One hopes that the sport would acquire more respect and following in the years to come, and the organisers will take better measures to avoid injuries and deaths during the events in future.
Wish to share your story?
Trending Now: