'In China we don't refuse food if someone, especially older, puts it'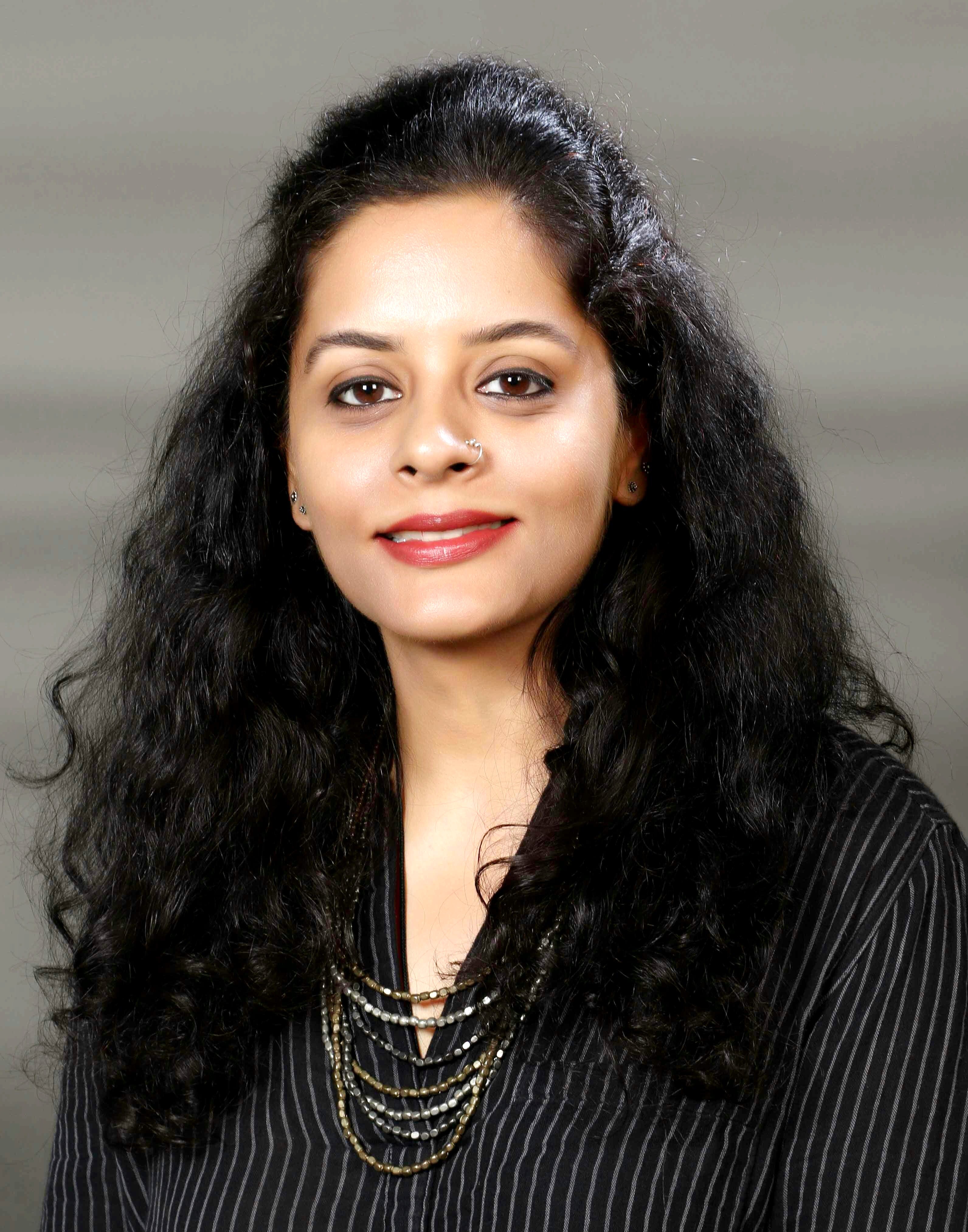 12-November-2018
Vol 9&nbsp|&nbspIssue 46
"The Chinese are good hosts, you'll enjoy. Look out for their army swarming the airport when you land," said a former colleague who has visited the buzzing Asian neighbour several times.
Most would associate a first visit to China with the capital Beijing or the financial hub Shanghai. But for several in this group of ten journalists from India, it was an introduction to the world's second largest economy through their upcoming province, Guizhou, in the south-west.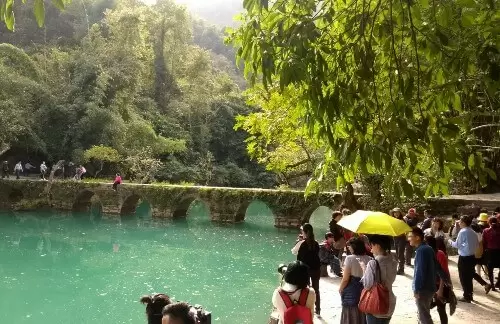 The Chinese are developing Guizhou as their own 'Silicon Valley' (Photos: Shalini Singh)

Given that we were smoothly whisked off the VIP route on landing, there was no sign of the above mentioned personnel waiting to greet us either.
"What was the tour about, poverty alleviation or big data?" asked another ex-colleague, long stationed in Beijing, when I informed him of our visit to the mountainous state.
Since our brief interaction happened over Facebook – banned in China along with Gmail, WhatsApp and Google but can be supposedly hacked illegally via VPN – we didn't get to chat further, let alone speak or meet.
And so, big data, tourism and hospitality it turned out to be.
China, enamoured with Bengaluru's reputation as 'Asia's Silicon Valley' is keen to build Guizhou, still considered a poorer, backward region of the country, as a big data hub. So much so that they've probably named it the 'garden province' after our 'garden city'. The aim is strategic tie-ups with India where we train their engineers and they offer the infrastructure.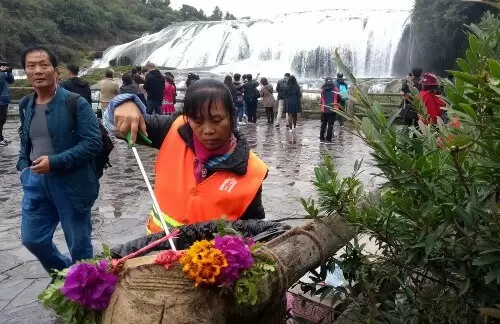 Guizhou is China's 'Garden Province'

A random conversation with an Indian engineer from Hyderabad sitting next to me on the return flight reflected that language would pose a barrier to this agenda.
Even when it comes to tourism, the country, if looking to bring in international tourists to the region, needs to brush up its English. While language is an impediment, the electric plug points seemed more versatile. Apart from their own three-pin point, most sockets host American and European versions too.
A week-long tour of the rural province came in the form of a packed road-trip, covering four cities in five days.
Guizhou houses the majority of the country's 55 minorities, especially the Miao ethnic group. A visit to the new Guizhou Intangible Cultural Heritage Museum in Guiyang showcased their various costumes, jewellery, masks used in local theatre practices, musical instruments, and even dating customs of the Dong ethnic group.
Dinner at a connected restaurant was preceded by a traditional greeting, pouring local liquor into the guest's mouth and a walk-through of some of the dishes on the menu – large puffed up poori-like sweet crisps with sesame seeds, fried insects, various kinds of pork, beef and fish -- before we settled into a private dining room.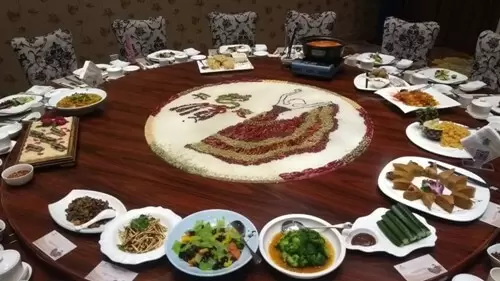 Circular tables are a traditional feature in China

The first of all meals that followed consisted of a circular rotating tray controlled by a remote control, placed upon a round table around which everyone was seated. Circular tables for their "lack of hierarchy" are a traditional feature in China, we were told.
Seated next to a state government official who insisted on piling up my plate despite polite refusals was quickly explained by the translator in my ear – "in China we don't refuse food if someone, especially older, puts it."
That's similar to India I told him, trying to stuff a big bite of steamed bok choy with crispy fish into my mouth, and thinking back of all the aunties and uncles who insist, "beta, eat just one more" helping of roti / poori / paratha / rice, depending on where you are in the country.
Seriously amazed at how different Chinese food is in China compared to what's sold as Chinese food in India, assuming this was appropriate dinner-time banter, I tried explaining how we'd imbibed the cuisine so deeply so as to produce a new variation called, 'Chinjabi' or Punjabi-fied Chinese, if you please, which was of course nowhere close to what we were having. The Chinese didn't look very pleased about that!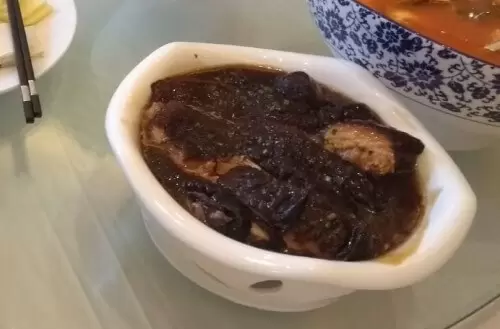 Non vegetarian food in China includes fried insects, various kinds of pork, beef and fish

While Chinese use peanut oil liberally in their dishes, which are also big on green vegetables besides meats and starch, Guizhou is known for variety of chillies. Most meals had a small dish of different chilli paste placed at every plate.
But the food isn't heavy or richly flavoured with spices. Fish or beef soups are cooked on small stoves at the table itself, and apart from sticky rice, flour-based buns are a source of carbohydrates.
I was fortunate that an earlier longish stint in South Korea had trained me to be comfortable with chopsticks. A reason to use them, the Chinese hosts said, is that one cannot overeat! Wise way to stay fit, indeed.
Incidentally, Chinese chopsticks are longest compared to Japanese (shortest) and Korean. At an official dinner, a senior official with the publicity department of the state government joked how all his meals during his recent India visit had been "curry laden". Yet another clichéd perception of Indian cuisines world over, I sighed inwardly.
What's the philosophy behind the food, I asked our host from the embassy. "We see food as medicine." That probably explains why Chinese meals don't offer dessert as such, opting instead for pieces of fresh fruit.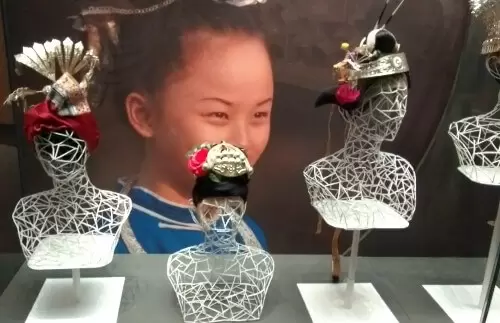 The Guizhou Intangible Cultural Heritage Museum in Guiyang showcases various products used by the ethnic groups in China

Meals are accompanied by hot soup, hot green tea or hot water – that aid digestion. By the end of the trip, a colleague happily announced that she'd dropped two pounds. However, China can be a difficult place for vegetarians. Garlic is a key ingredient, while even egg is considered 'vegetarian'.
Non-smokers may not be too comfortable either. Most hotels allow smoking, which a senior colleague noted is common in most Communist countries like Cuba, Vietnam too. "Imagine a parlour filled with smoke as intellectuals discussed their ideas and world views, puffing away. It has probably stayed on from then..." he mused, as we passed a tall statue of the Chinese leader, Mao Zedong, in the city.
Apart from dining, the 'full circle' philosophy is also seen in the Chinese perception of time with 12 being a key figure. In the itinerary prepared for us, the day began at 7:30 a.m. and ended by 7:30 p.m.
We gave 12 hours to the day's schedule and got 12 hours to ourselves. The trip started with Guiyang city and ended there. "We end where we begin," explained a local journalist-turned-government official.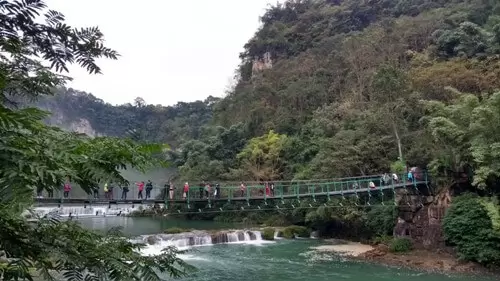 Guizhou is emerging as a hot tourist destination in China
After quick research, I packed the small tokens of appreciation for our hosts in red paper, the colour signifying good luck in their culture.
I'd also observed that they hand over anything, especially business cards, with both hands, adopting a posture of humility. A new practice, apart from sipping hot herbal tea after dinner, I hoped to carry back with me, as a citizen of the world's largest, colourful, warm, noisy democracy -- long used to absorbing different cultures.
Shalini Singh is a freelance journalist based in Delhi

Trending Now: