A Thursday night dance class in Houston helps her passions to resurface

Saborna Roychowdhury
&nbsp | &nbsp
25-April-2013
Vol 0&nbsp|&nbspIssue 1
On Thursday nights, a magical tune from a distant piper drags me to my dance class at the Shivangini School of Dance (in Houston).

I become an artist on Thursdays and go far away from my mundane world into a world of fantasies and color, music and rhythm.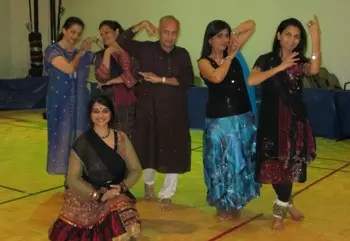 Dancing in Houston: Time to dance and be just girls
I do what I like to do most--throw stones in a green pond and watch the ripples grow; or take a palate and draw the face of an unknown woman with broken dreams.

When I walked into Shiva-ji's class for the first time, I closed the heavy glass-door behind me and with that I closed the door on a hectic, stressful world of routines and responsibilities.

I felt immediate camaraderie with her students; I melted into my surroundings and my surroundings wrapped around me.

Shiva-ji looked at me with her big beautiful eyes and a smile that lit up her entire face. When she got up to dance, she altered from a warm teacher to an artist whose style, harmony and fluid movements filled up the room and transported me into a half-trance like state.

Her strong footwork commanded and marked the floor and her swift graceful turns left me dizzy and unsatisfied—hungry for more. I got up at once to dance wanting to bring forth this exquisite blending of ease and command in my own dance.

The song to which we are now dancing is called, "Yeh rishta kya kahlata hai." The fluid images and the moist feelings Shiva-ji presents to us through this song, not only mesmerizes us but also holds us and ties us together in an invisible bond.

Almost unknown to us, we connect with each other---gently supporting, encouraging and nurturing each other.

All our inhibitions go away and only our passion is allowed to surface.

Dancing to this song, all of us forget our age--our role as wives, professionals and mothers; we are again back in our teenage years—giggling, teasing, and acting silly; we are just "girls" dancing together-- our bells ringing on the hard wooden floor—breaking away from the old rishtas and making new ones.

Saborna Roychowdhury is based in Houston, US, and author of 'The Distance'

Wish to share your story?
Trending Now: