"Hey we can do better this way"

25-March-2011
Vol 0&nbsp|&nbspIssue 1
Robert Cushing said: "The fact is, that to do anything in the world worth doing, we must not stand back shivering and thinking of the cold and danger, but jump in and scramble through as well as we can."

With this quote in mind we decided to create a platform to create awareness among the people of Tirupur on Technology, Entertainment and Design. Tirupur is known for its Dyes and Chemicals. And now it is best known for its crisis that this Dyes and Chemicals has created.

Imagine a 'Technical, Entertained, Designed' international conference that is independently organized at Tirupur! That's how TEDx Tirupur was conceptualized as 'idea worth spreading'. On 27th March 2011, technologists and achievers will come together at South Rotary Club, Tirupur to discuss the future generation's problems.

I met Vivekanandan Manokaran (Curator&Licensee, TEDxTirupur), and Vinoth K (Chief co-ordinator, TEDxTirupur), both students of Bannari Amman Institute of Technology for the first time at TEDxChennai 2010 as Bloggers. We were inspired by the power of TEDx talks and TEDxIndia ambassador Kiruba Sankar. Kiruba is also the curator of TEDxChennai. What was just a plan then started taking shape. The first step was to get the license and Vivekanandan did that.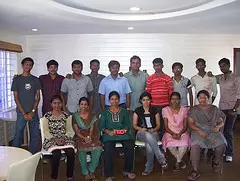 We can: Team work has paid off with Tirupur ready to host its first TEDx event
The next toughest part was to form a team that would deliver the results. Most of the current members on board are from Bannari Amman Institute of Technology and each have their core competencies (decoration, hospitality, photography, documentation, logistics, marketing, writing, social media etc).

Identifying, communicating with the speakers and sponsors was another major hurdle. But it was a great learning experience. Each team member was working independently and reporting back to the curator. With stringent guidelines laid down by TEDx to the licensees, our work was constantly monitored by the curator to ensure that we were not lagging in any compliance.
Months of planning, discussion and dreams took a concrete shape in the Pre Event held at K R Residency, Coimbatore on 6th March 2011. It was a great event and for the first time, we met as a full team. It was an intense closed door meeting. Things were planned, erased, re-planned, and discussed. We argued, brainstormed and sometimes disagreed with each other, just to bring the best output which would make ours a unique TEDx event.

Some of the obvious issue that was there in our mind was the policies of TEDx, our financial constraints, and negative feedback of some TEDx events. Looking back at months of preparation, we have progressed a lot, but even today some member of the team would come and say "Hey we can do better this way?" So we are progressing as a team and continuing to learn.

TEDx Tirupur 2011 achievers who will share their insights are:

Anusha Ravi Mahesh (Curator, TEDxCoimbatore)

Dr Prahlathan (Founder, BhumiChennai)

Sherin Asha (Founder, Velicham.org)

Arun Madhavanji (First chairman and Trustee of Art of living organization)

Satish Babu (Director, International Centre for Free & Open Source Software)

Chendil Kumar (Toastmaster and Guest Faculty at IIM)

Kaliyamoorthy IPS (Former SP, Trichy district)

Nitin Gupta (CEO, Entertainment engineers)

Vikram Ramakrishnan (Director, thinkingpalm careers)

Rangadhithya (Founder, Hip Hop Tamizha)

Gopinath (Philosopher, Host, Neeya Nana, Vijay TV)

Finishing touches for the stage, media team, web casting, costumes, transportation, lunches, documentation, awards etc are still in progress. We are running against time. But our determination will help us in achieving the ultimate success.
Amar Naik, a Project Manager in TCS, is in charge of Social Media and Press Release, TEDx Tirupur

Trending Now: