Well, Hindi is a foreign language in Gujarat!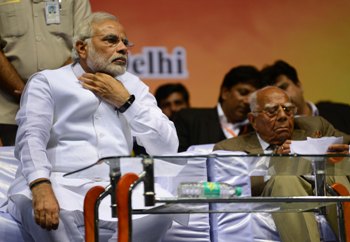 It is high time that the Modi government got its act together and focused on governance. Prime Minister Modi has to lead by example and issue clear directions to his cabinet colleagues to pursue a constructive agenda and desist from indulging in divisive politics.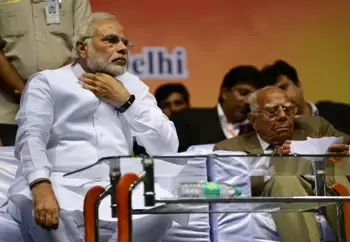 Prime Minister Modi has been actively promoting Hindi (Photo: Indian Photo Agency)
Jitendra Singh, the Minister of State, Prime Minister's Office (PMO), almost destroyed the fragile peace in the Kashmir valley with his controversial remarks on Article 370, which gives special status to Jammu and Kashmir.

His Statement aroused emotions in Kashmir, and made a seasoned politician like J & K Chief Minister Omar Abdullah come up with a nasty riposte on tweeter: "Mark my words & save this tweet — long after Modi Govt is a distant memory, either J&K won't be part of India or Art 370 will still exist… Art 370 is the ONLY constitutional link between J&K & rest of India. Talk of revocation not just ill-informed, it's irresponsible."

Now, the government in Delhi has whipped up another needless controversy. A home ministry directive has instructed officials and employees of all central government ministries and departments, banks and public sector undertakings to give 'prominence' to Hindi in social media.

"...All officers and employees who operate official accounts on Twitter, Facebook, Blogs, Google, Youtube should use Hindi and English languages. Prominence should be given to Hindi," the directive stated.

It has evoked a strong response from political parties in Tamil Nadu. DMK chief Karunanidhi saw it as imposition of Hindi and said giving prominence to Hindi at the cost of the other languages in the 8th Schedule was the first step in making non-Hindi speaking people second class citizens.

Tamil Nadu Chief Minister and AIADMK supremo Jayalalithaa has written a strongly worded letter to the PM, in which she states that the home ministry directive is "against the letter and spirit of the Official Languages Act."

Ever since the issue came to the fore, social media is abuzz with comments and debates on the centre's proactive policy on Hindi.

Language continues to be an emotive issue in Tamil Nadu. Modi's fondness for Hindi does not change the situation in any manner.

Modi is actively promoting Hindi. He chose to speak in Hindi with the South Asian leaders who were in Delhi to attend his swearing-in ceremony when he took charge as Prime Minister last month. He also addressed the Bhutanese Parliament in Hindi.

A Prime Minister, who represents a multi-lingual country, should not be biased to one language. He has to treat all the languages of the country on equal footing.

Hindi is India's official language along with English, but it is not the national language. It is one among the regional languages of India, and it has to be treated as such.

In 2010, the Gujarat High Court made an interesting observation on the status of Hindi while hearing a PIL that sought directions to manufacturers to print details like price, ingredients and date of manufacture in Hindi. The petitioner's lawyer argued that Hindi was the national language.

Rejecting the PIL, the court observed, "Normally, in India, majority of the people have accepted Hindi as a national language and many people speak Hindi and write in Devanagari script but there is nothing on record to suggest that any provision has been made or order issued declaring Hindi as a national language of the country."

In another case where farmers from Junagadh objected to a Hindi notification issued by the National Highways Authority of India (NHAI), the Gujarat High Court had observed that Hindi is a foreign language for Gujaratis.

"The language used by the petitioners in this area is Gujarati and Hindi language used in the notification is a foreign language for them. The normal spoken language in the region is Gujarati and not Hindi," the court had observed.

When Hindi is considered a foreign language in the Prime Minister's own State, how could it be seen as any different by people in a non-Hindi speaking State like Tamil Nadu.
P C Vinoj Kumar is Editor, The Weekend Leader