'Have a roaring Diwali, help the tigers'

25-October-2011
Vol 0&nbsp|&nbspIssue 1
Diwali, the festival of lights is all about a new beginning, a renewal of the old self. It is also about sharing our God given wealth for the good causes.
This diwali, together with the festive celebration, why don't you think of donating generously for our tiger, the most magnificent animal whose aura stands out in the jungle?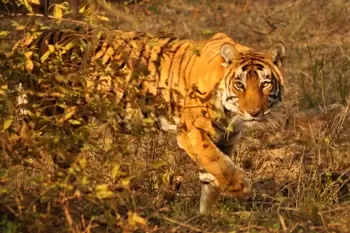 Tiger Protection Group, which has been doing its bit for conservation of tigers, has lined up more events for the future
Little drops make an ocean. Similarly, every single contribution that you make will help us in our initiative to protect our national pride - The TIGER.
Tiger Protection Group (TPG) needs your support to fuel our operations and to realize our goals of protecting the tiger and promoting co-existence between man and animal so that the communities inhabiting the areas in and around the national parks are also adequately benefitted.
We have been holding tiger awareness programmes and wish to continue doing so in the future as well.
We conducted 'Tiger Fests' at Ryan International School, Jaipur, and St. Stephens College, Delhi. More recently, we conducted a workshop at Fateh Public School in Ranthambhore.
TPG has a huge fan following on one of the most prominent social networking sites, Facebook, where our cause page boasts of about 28,000 active members.
Baagh Singh our mascot, the harbinger of hope, is a very popular figure amongst our followers.
Given below are a few of our upcoming projects:
• The Kanha Project - This project seeks to promote social change in the villages adjoining the Kanha Tiger Reserve in Madhya Pradesh in order to secure full participation of the local communities in biodiversity conservation by providing them ecologically sound and culturally appropriate means of livelihoods for sustainable development.

• Tiger Meet – To provide a central platform for government officials, NGO's, conservationists and representatives of civil society to come together and figure out viable solutions for various problems facing tiger conservation.
• Tiger Fest 2012 Dehradun - A bigger and better stage for students to raise their voice on tiger issues.
• Tiger Camps – Educational and interactive trips to Tiger Reserves/ National Parks for school and college students. Our motive for doing this is to give them a feel of the jungle, and educate them about wildlife conservation.
• Exhibitions: Photo exhibitions of varied wildlife enthusiasts to be showcased in prominent parts of Delhi to focus on the role of photography in wildlife conservation education.
Donate generously and help us accomplish our goals!
To know more about our work and other upcoming projects, please visit http://tpgindia.in/events.shtml
Upamanyu Raju is Founder of the New Delhi based NGO, Tiger Protection Group. You may email him at [email protected]


Trending Now: