Young Parliamentarians unite to address the problem of child malnutrition

Neeraja Chowdhury
&nbsp | &nbsp New Delhi
05-January-2012
Vol 3&nbsp|&nbspIssue 1
* "Child malnutrition is an issue, which has been on the fringes. Our effort has been to bring it to the mainstream through a bipartisan effort." – Sachin Pilot, Minister of State for Telecommunications and MP, Indian National Congress (INC).

* "It is time to stand up and unite against malnutrition." – Shahnawaz Hussain, MP, Bharatiya Janata Party (BJP)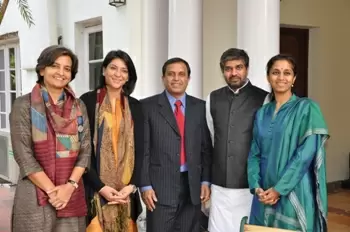 United for a cause: (From left) Congress MP Dr Jyoti Mirdha, Congress MP Priya Dutt, Congress MP Madhu Yaskhi, Samajwadi Party MP Neeraj Shekhar and Supriya Sule, MP, National Congress Party. (Courtesy: Naandi Foundation)
* When I see hunger, it troubles me that we have not been addressing these issues in the last 60 years. Unfortunately, despite so many child deaths, no government in India has been able to do anything about it." – Supriya Sule, MP, National Congress Party (NCP)
* "We got together across party lines because many younger MPs felt there were certain issues like malnutrition that needed to be depoliticised and tackled on an emergency basis." – Jay Panda, MP, Biju Janata Dal (BJD)
* "The biggest revelation to me was that half our children were malnourished. If these children are not helped, how will the country go forward?" – Neeraj Shekhar, MP, Samajwadi Party (SP)
It all began in the winter of 2006. The National Family Health Survey III (NFHS-III) – a report partnered by the Union Ministry of Health – revealed that almost every second child under five in India was malnourished. Equally shocking was that in this regard India did worse than many countries in sub-Saharan Africa, even dictatorships.
Malnourishment was clearly a chronic problem, because a large number of underweight babies were being born to underweight women in India. This in turn revealed women's poor status, including early marriage, high levels of anaemia, inadequate nutrition, little education and hardly any role in decision-making, both within the home and in the public space.
The evidence that emerged with the NFHS-III report became a topic of conversation in the Central Hall of Parliament and some of the younger Parliamentarians wondered aloud about what could be done.
Sachin Pilot, who is today Minister of State for Telecommunications but was at that point just an MP, decided to reach out to some of his parliamentary colleagues. That was how a group, initially comprising five Parliamentarians – which christened itself 'Citizens Alliance Against Malnutrition' – was convened.
The MPs invited other eminent citizens from different sectors to join them in understanding why the situation continued to be so bad. Madhya Pradesh – that reported one of the highest levels of child malnutrition in India – was the first destination in this journey of learning.

Before long a group of eight – five of whom were MPs – were on the train headed for Gwalior. It included Shahnawaz Hussain of the BJP, Supriya Sule of the NCP, Jay Panda of the BJD, Prema Cariappa and Sachin Pilot of the INC. Many more were to join their ranks.
Because Madhya Pradesh was a BJP-ruled state, it was decided in the interests of bipartisanship, to visit Congress-ruled Maharashtra next. Subsequently, the group visited states ruled by regional parties like Orissa and Bihar, which also reported high levels of malnutrition, as well as Rajasthan.
The MPs understood that the credibility of this effort hinged on the group's independence and lack of political bias. When the media tried to corner BJP's Shahnawaz Hussain in Gwalior – since Madhya Pradesh was ruled by the BJP – it was his colleagues from other parties who answered the questions. In Maharashtra, it was the other way around.
The group visited tribal villages in Madhya Pradesh's Gwalior district and Maharashtra's Thane district. They went to Cuttack district in Orissa and spent time in Bihar's Muzaffarpur and Vaishali districts as well as Rasjasthan's Banswara district.
Every visit yielded new insights into ground realities – and also threw up some good practices in the fight against malnutrition. In Cuttack district, for instance, they were told that a simple thing like ensuring children wore slippers while going into the fields for their ablutions had helped.
In Bihar, they visited a Nutrition Rehabilitation Centre, where acutely malnourished children were being treated – 99 per cent of them came from marginalised backgrounds. It was they who were destined to die with even one bout of diarrhoea or pneumonia.
Given the profile of the group, news of a pending visit would throw the local administration into a frenzy as anganwadi centres were spruced up and children made to turn up in their best clothes. But surprise visits revealed the true story.
In Gwalior district, when the group stopped at a randomly chosen village, they found the local anganwadi centre shut. Minutes later, the missing anganwadi worker came rushing in to open the room.
With some deft questioning it was obvious that hot cooked meals were not being served to children here. The MPs then understood that when anganwadi workers were themselves political appointees it invariably led to poor functioning of the centres.
Indifferent tracking of the nutritional status of the children was another problem everywhere. Registers were not being filled properly, children's weight was not being checked regularly and, in some instances, registers were filled in pencil so that the figures could be modified later.
Some of the impracticalities of the system also surfaced. For instance, anganwadi workers, whose main task was to visit homes and run the centres, were saddled with the laborious task of filling up as many as over 100 columns in their registers.
Just by visiting a particular region, the group provided a public focus to child malnutrition. The fact that chief ministers made it a point to meet them helped to raise the profile of their visits. In Orissa and Bihar, the group met chief ministers Naveen Patnaik and Nitish Kumar, respectively, who got their senior officials to brief the visitors.
Ultimately, it was the determination of this group to keep its non-partisan nature alive – no matter how strong the temptation to score brownie points against each other was – that made the difference.
In fact, President Pratibha Patil, Prime Minister Dr Manmohan Singh, and the Leader of Opposition - first L.K. Advani and later Sushma Swaraj – commented on this when the group briefed them on its findings.
It was probably the only issue that had united MPs across the political spectrum. BJP's Shahnawaz Hussain and Mohammed Salim of the CPI(M) may have slugged it out in Parliament in the morning, but in the afternoon they could be seen sitting side by side trying to convince the PM or the Leader of Opposition that more needed to be done to give malnourished children their due.
This effort is still very much a work in progress. A national campaign, which will be the result of the joint efforts of Bollywood's Aamir Khan and Prasoon Joshi, the Government of India, UNICEF India and the Citizens Alliance Against Malnutrition, is almost ready to roll out in early 2012. It is expected to be on the scale of the campaign mounted against polio.
The Hyderabad based NGO, Naandi Foundation, whose CEO is a member of the group, decided to initiate a report of the state of child malnutrition in the country's worst 100 districts – and the 12 best ones. Titled the HUNGaMA (Hunger and Malnutrition) survey, it captured the nutrition status of 109,093 children under five.
More initiatives will follow in the days ahead. This journey to understand ground realities undertaken by India's young Parliamentarians may well turn out to be a journey for change.
Sachin Pilot spoke for many when he observed, "Today I, for one, consider this to be on top of my political priorities as an elected representative." Jay Panda echoed this concern and promised to speak out on the issue in his constituency and seek support across the spectrum to tackle it.
So far, malnutrition has not been on the main agenda of political parties. Hopefully that will change. India's young Parliamentarians have spoken, now the country needs to act. – Women's Feature Service


Trending Now: