'Water for Tamil Nadu, Safety for Kerala' does not hold water in Neyyar issue
26-December-2011
Vol 2&nbsp|&nbspIssue 51
Justice has to be rendered to Tamil Nadu on the Mullaiperiyar dam issue and it has to done before the situation gets out of hand. The Government of Tamil Nadu should use all possible means to secure its rights and get the Centre to prevail upon the Kerala Government to honour the Supreme Court verdict of 2006.

Chief Minister J Jayalalithaa should write to her counterparts in other States and explain to them Tamil Nadu's position and the grave injustice being meted out to it by a State that appears to have no respect for rule of law.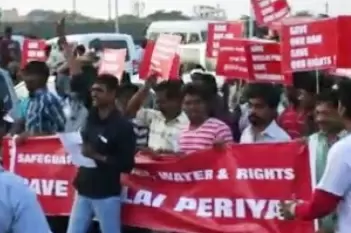 Tamil Nadu has to press its case based on facts and fight till it secures its rights (Photo shows May 17 Movement members taking out a rally in Chennai to save Mullaiperiyar dam)
The Supreme Court had declared the dam safe in 2006 and allowed the storage level of the dam to be increased to 142 ft from the existing 136 ft, and later to its full capacity of 152 feet.

The centre should not remain a mute spectator. It should not let things drift any further as the lives and properties of a large number of people living in both States will be in danger in the event of any outbreak of violence over this issue.

If a State can spin tales of horror, based on fictionalised – or filmy - accounts of imagined disasters as explanations for not implementing Supreme Court orders, then it is time for all patriotic citizens of this country to join hands and force the errant State to respect the law of the land.

Kerala's promise of 'Water for Tamil Nadu, Safety for Kerala' does not hold water. When the State says it would give water to Tamil Nadu from a new dam, it is nothing but a cruel joke.

Mullaiperiyar is not an isolated case of Kerala denying Tamil Nadu's rightful share of water.

About one lakh farmers living in Vilavancode taluk of Kanyakumari district near the Kerala – Tamil Nadu border are being denied their share of water from the Neyyar Dam in Kerala for years.

The Neyyar Dam issue, which is rarely highlighted in the national media, is a classic example of Kerala's perfidy on sharing river waters, a national wealth.

Conceived in the early days of independence when it was just Travancore-Kochin State, the dam, situated at Kallikad, 30 km south-west of Thiruvananthapuram on the slopes of the Western Ghats, was to irrigate 10,000 acres of land in Neyyattinkara taluk through its right bank canal and another 10,000 acres in neighbouring Vilavancode taluk through its left bank canal. Work on the project began in 1952 and was completed in 1958.

In between, states reorganization of the country on linguistic basis took place in 1956. Tamil Nadu ceded 12,219 sq km of land to Kerala which lost the Tamil-speaking southern part of Thiruvananthapuram district to Tamil Nadu, including Vilavancode taluk, which became part of the newly created Kanyakumari district.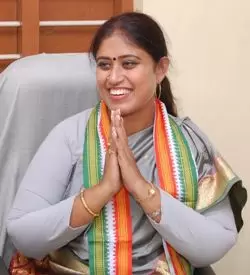 Vijayadharani requested Chandy to release the Neyyar water which would help 1 lakh famers
According to farmers in the district, supply of water from the Neyyar dam had always been erratic, but from 2004 they had not received a single drop of water from Kerala. The Kerala Government stopped the water supply citing petty issues that could have been easily resolved through negotiations with its Tamil Nadu counterpart.

As a result, the left bank canal network of the Neyyar Dam and its 10,000-acre ayacut remain dry today while the right bank canal net work is brimming with water.

If the Kerala government stopped letting water into the left bank canal for want of adequate water in Neyyar Dam, it would have been understandable. But the truth is that water is available in plenty there and much of it drains into the Arabian Sea at Poovar near Thiruvananthapuram.

To cap it all, the catchment area of the dam extends to Kanyakumari district of Tamil Nadu. S Vijayadharani, the Congress MLA from Vilavancode, who has taken up the issue with both the central and state governments, says about 40 percent of the water flowing into Neyyar originates from Tamil Nadu.

On 22 December, Helen Davidson, Lok Sabha member from Kanyakumari, raised the issue in Parliament under Rule 377 and urged the Union government to instruct Kerala to release Tamil Nadu's legitimate share of Neyyar water.

In 2007, then Tamil Nadu Chief Minister, M Karunanidhi, wrote to his Kerala counterpart, V Achuthanandan, to release water in the left bank canal immediately to save Vilavancode farmers from poverty but to no avail.

Vijayadharani met Kerala Chief Minister Oommen Chandy earlier this month and requested him to release water from Neyyar to Vilavancode farmers. She has also made a representation to the Tamil Nadu government. She hopes the two governments will arrive at an amicable solution soon.

It is time for Kerala to demonstrate through some sensible acts of reconciliation that it is not in favour of escalating the tension between the two States, but is prepared to concede Tamil Nadu's just demands. – TWL Bureau

Also Read

Mullaiperiyar dam issue; It's more about land than water!

'It is fair to examine the coverage of a newspaper'

Trending Now: