Raghu Rai and friends join hands to build home for HIV children
17-December-2011
Vol 2&nbsp|&nbspIssue 50
Raghu Rai hopes for a nice home for them. Jatin Das too wishes them to have a solid roof over their heads. Young artist Anoop Kamth does not want to see them wander hither and thither in search of a home either. Senior journalist Usha Rai wants to support the cause too.
The children that have these top artists riled up and rallying are special ones – HIV positive children, who have been ostracised by society. Not only are they ignored but their very existence is acknowledged by few.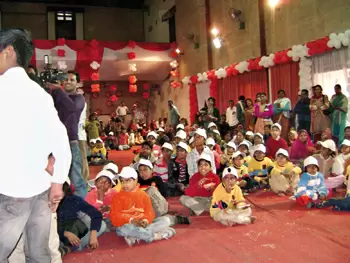 Thanks to the efforts of some kind souls, these children will have a home of their own soon (Photos: The Sunday Indian)
In Hanuman Nagar area of Jaipur are these 19 children, and others like them, about 2000-odd all over the state of Rajasthan, who have the deadly AIDS virus in their bodies.
Brajesh Dubey of Rajasthan Network for People Living with HIV-AIDS Plus (RNP +), who takes care of these children, says he has had to change four houses in the last two years with these children in tow.
Although he claims to have got used to changing houses at short notices, the last one was too abrupt. No sooner did the landlord learn of their HIV status than he served a notice of seven days to vacate the house.
"He would hear of nothing short of getting his house back within seven days! The landlord claimed that the residents of the neighbourhood were not comfortable with HIV positive children living in their midst.
"The children and I had moved into this house this November 1! It's not easy to find one so soon. The children would be on the streets this way. However, we got some more time to look for a new house. This matter had been picked up by some newspapers.
"Renowned photographer Raghu Rai read this news and he got in touch with us. He wanted the children to have a house of their own. But that would require a huge amount of money which wasn't easy," recalls Brajesh Dubey, who also mentions coming in contact with noted film producer Noel Mac Pereira, keen to make a positive difference to the lives of these HIV positive children.
The 'Positive Art' programme is Pereira's brainchild. Getting people together for this, looking for a place to organise it and then to get Shashi Sahay of Life Long Learning Department of Rajasthan University to work along within this programme – it was all spearheaded by Pereira alone.
The accommodation arrangement for children from all over the state was made possible with the help of Ms Sahay. Pereira, who is looking to make a film on the lives of HIV-affected children, has a target of collecting about Rs two crore in order to build a permanent home for these 19 children of Jaipur.
Emboldened by the support of these eminent artists, painters and photographers, Brajesh Dubey hopes to get one built for all such children across the state.
Raghu Rai has donated two of his award-winning photographs for their cause. He mentioned the plight of these children to some of his friends and they followed suit.
Jatin Das and Manu Parekh lead the way with their paintings, followed by Bikash Poddar, Ashish Poddar, Himmat Shah, Gopi Gajwani, Tirthankar Biswas and Anoop and Ritu Kamth.
Now, RNP+ has a collection of paintings and works by these artists which they intend to auction to fetch money. The money would hopefully ensure that these children with AIDS have a roof of their own, so that they have only the disease to contend with, and not the daily mortification.
At the 'Positive Art' congregation, the children got together to make their own paintings. According to Ms Shashi Sahay, top twelve paintings will be turned into a calendar and sold to collect money.
The coming New Year may be full of promises for these young ones. During the NRI summit to be held in Jaipur between January 7 and 9, the paintings and photographs collected from these eminent artists would go under the hammer. The money thus collected will hope to finance a new home for these special kids.
Bikash Poddar adds that if the amount collected is insufficient, he, along with the others, would pitch in with more efforts to accomplish the objective. The onus lies not just with them; it's ours too.
By arrangement with The Sunday Indian

Trending Now: