Teaching fellow journalists how to file RTI applications is his task
01-December-2011
Vol 2&nbsp|&nbspIssue 48
Newspapers and television have been reporting on scams unearthed with the aid of the Right To Information Act. Yet the question remains as to how far journalists have actually benefitted from this new tool, and how competent they are at putting it to use. Naresh Nunna spoke to K Venkatesh, a Knight International Journalism Fellow (KIJF), who is working with scribes in the field of Right to Information. Excerpts:
Can you brief us about the Knight International Journalism fellowship?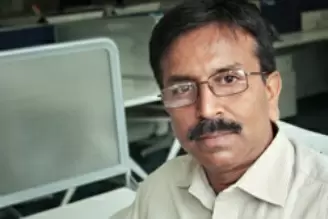 By networking journalists and RTI activists, K Venkatesh trains media persons on the effective use of RTI (Photo: The Sunday Indian)
The Knight International Journalism Fellowship is given to mid-career journalists to work on a theme of their choice. It is funded by the Knight Foundation, a premier non-profit organisation based in the US. The fellowship is administered by the International Centre for Journalists (ICFJ) in Washington DC. The area of my work is on journalism, governance and the Right to Information (RTI).
What do you do as part of the fellowship work in India?
I work in south India with journalists and RTI activists. I conduct camps for journalists to help them file their RTI applications. I do this with RTI experts who have filed thousands of applications on their own. It is my hope that journalists understand the potential of the RTI Act, and use it more forcefully and in a more creative manner.
Do you think journalists have responded to RTI in a big way?
The change is happening slowly. Earlier, journalists used to depend solely on RTI activists for their information. Now some of them have understood the utility of the Act and have started filing applications on their own. This is what we teach them at these camps. Filing an application is very simple, but we find that very few journalists have done that so far. They are now understanding the nuances of the act and are enthusiastic in filing the applications.
Do you mean that journalists can get over the dependence on RTI activists?
Yes and no. What we say is that RTI activists will always be there to pursue issues and their interests, but journalists need not be too dependent on them for filing for basic information.
What we do in these camps is also bring together the journalists and the RTI activists, so that they can exchange views and get to know each others' requirements.
We work to network both of them, so that they can work together for greater transparency. Most of the scam related reports in India in the recent past have happened because of the excellent and coordinated work between journalists and RTI activists.
Journalists have a feeling that filing an RTI and getting replies is time-consuming?
Yes. It takes 30 to 45 days for the first replies to come in. If a particular report or story is very time sensitive, obviously the journalist is not going to wait for the reply.
However, what we tell people in our camps is that journalists need to plan their stories and file for information on feature stories. We explain to them on ways of filing, on pitfalls to be avoided, and the areas and themes where information might be easily forthcoming.
What do you think are the challenges of working with journalists?
The challenge is when there is a rush of deadlines, and very few journalists are given either the time or resources to file in-depth stories.
Moreover, filing RTI applications and not receiving information can prove frustrating. Hence we ask journalists to file very simple applications, and get accustomed to the idea of filing and waiting for information.
One should also not have a negative view of government that they are all out to deny information. It may not be the case. There have also been cases where more information was received than expected.
Are media houses training their journalists on how to use the RTI provision?
Very little is being done to train journalists. However, our experience is that editors were very keen for their journalists to be trained to use RTI act.
By arrangement with The Sunday Indian


Trending Now: