Mullaiperiyar dam issue; It's more about land than water!

30-November-2011
Vol 2&nbsp|&nbspIssue 47
A 116-year-old dam in Peermedu taluk of Idukki district, Kerala, is giving sleepless nights to the UPA government and the Supreme Court of India.

Constructed by Major John Pennycuick of the Madras Regiment on an 8,000-odd acre piece of land in the high ranges given on 999-year-lease to the then Madras Presidency by the erstwhile Maharaja of Travancore, the 15 tmcft. storage capacity Mullaiperiyar dam was to divert its waters to the rain-shadow region of Tamil Nadu.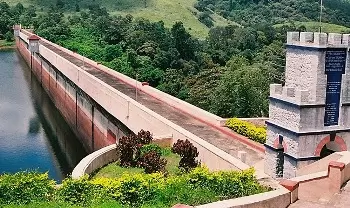 Dams that are older than Mullaiperiyar continue to stand like rock
The idea of diverting the Periyar into Madurai existed for more than 150 years. A small beginning was made in 1850 but was given up as labourers demanded high wages to work in the malaria-infested region.

The lease agreement was signed on 29 October, 1885, and work on the project was completed in 1895. Ever since, the dam had been under the administrative control of the Public Works Department of the Tamil Nadu government.

Apart from providing drinking water to the people of Madurai, Theni, Sivaganga and Ramanathapuram, the diverted waters helped irrigate about 70,000 hectares of parched land in these districts.

The Kerala government wants to abrogate the lease agreement, decommission and dismantle the dam and build a new one half a kilometer downstream at its cost to ensure uninterrupted water supply to Tamil Nadu at the existing level.

A 130-page government report says: "There is a limit to the number of years one can keep dams in service through maintenance and strengthening measures. In the case of the Mullaiperiyar dam, it has to be there for another 884 years for diverting water to Tamil Nadu as per the lease deed.

"This is an impossible proposition. All over the world, safety of dams is being reviewed as per modern standards and hundreds of dams have already been dismantled considering the safety aspects of human life and property."

Age does not wither a dam.

Karikala Chola built Kallanai (Grand Anicut), the world's oldest dam, across the Cauvery, south of the temple town of Srirangam in Tiruchirapali district, in the second century AD.

It is still functional and continues to irrigate about 4,000 sq. km. in the delta region, the granary of Tamil Nadu. The secret of the longevity of Kallanai is its regular maintenance.

People in the delta are not living in fear of the aged dam bursting. Sir Arthur Cotton transformed the entire Godavari-Krishna delta into rich agricultural lands by constructing the Godavari anicut, and Dowleswaram and Krishna barrages between 1845 and 1855.

To get approval for the Godavari anicut, he wrote to the Secretary of State for India in London: "My Lord, one day's flow in the Godavari during high floods is equal to one whole year's flow in the Thames."

All the irrigation structures built by Sir Arthur Cotton are much older than the Mullaiperiyar dam and are functional. Like the more than 1,900-year-old Kallanai in Tamil Nadu, the Andhra Pradesh PWD maintains the Godavari and the Krishna dams and no one in coastal Andhra would dream of demanding decommissioning and dismantling them.

There is a story behind the Kerala government's demand for demolishing the Mullaiperiyar dam. It does not tolerate its neighbouring State having control over 8,000-odd acres of land in its territory.

Having failed in its attempt to get the 1885 Lease Deed declared null and void through legal means, it sued for upward revision of lease rents and won.

In 1970, the then Kerala Chief Minister C Achutha Menon renewed the lease agreement on terms much better than the 1885 ones. He never raised the safety issue of the dam because he had confidence in the ability of the Tamil Nadu engineers to protect.

He wanted the fishing rights in the Mullaiperiyar reservoir to be transferred to Kerala. Tamil Nadu readily agreed.

Six years later the Idukki dam, 30 km. downstream of the Mullaiperiyar dam on the Periyar, with a capacity to store 71 tmcft. water, was completed as a hydroelectric project.

The expectation was the dam would fill to the brim twice in a year, during both the north-west and the south-east monsoons. That never happened in the first two years.

It was then the late K Karunakaran and engineers of the Kerala State Electricity Board came out with the weird idea of creating panic in the State that the Mullaiperiyar dam was in danger of bursting and the lives and properties of 35 lakh people living in the districts of Idukki, Kottayam, Alapuzha and Ernakulam were in danger and requested the Tamil Nadu government to perform the obsequies of the dam.

It was a clever ploy to kill two birds with one stone. Idukki would get its fill and the land lease would become redundant.

It worked in part. The Kerala media excelled in spreading panic among the people.

What began in 1978 in the print media has since spread to the electronic media and culminated in the release last Friday of Warner Brother's English film "Dam 999" directed by Sohan Roy of Kochi at a cost of Rs.50 crore and dubbed in Malayalam and Tamil.

A whole generation of Keralites have been brought up on the fear of death by drowning.

As Adolf Hitler wrote in Mein Kampf, "The great masses of people will more easily fall victim to a big lie than a small one." Even a seasoned thinker like the retired Supreme Court Judge VR Krishna Iyer could not see through the game.

Quoting the Rio de Jeneiro Declaration on Environment and Development of the UN conference (1992), he wrote in an article published in a leading daily, "The Central government is duty-bound to save every Indian's life. Federalism does not absolve the Centre from failing to avoid the huge casualties that could be caused by an incident of leakage from the Mullaiperiyar dam. The due jurisprudence implied in the Rio instruments are international in impact and it cannot be violated by signatories like India."

The materials Major Pennycuick used to construct the Mullaiperiyar dam are the same Karikala Chola used for the Kallanai 1900 years ago: stone and surki.

In 1930,Tamil Nadu engineers responsible for its maintenance bore 80 holes in the dam and injected 40 tonnes of cement solution to plug seepage. Again in 1933, grouting technology was used to strengthen the dam. In 1960, 502 tonnes of cement solution was injected. All this was done without any outsider prodding.

After the scare-mongering in 1978, New Delhi deputed an expert team of the Central Water Commission to inspect the dam. Though it did not find any fault with the dam, it recommended temporary lowering of its storage level from 152 ft. to 136 ft., thereby reducing its capacity from 15 tmcft. to just 10 tmcft., to allay the fears of Kerala.

Since then, a reinforced concrete cap was put on the dam to increase its weight by 12,000 tonnes and cable anchoring was done to withstand tremors.

In the unlikely event of the dam bursting in spite of all these safety measures, the entire water will flow into the Idukki dam, 30 km. down stream. There are no big towns in this short stretch of sparsely populated forest area.

Of the two medium-size towns, Kumuli is located at an altitude of 3,350 feet and Elapara 4,850 feet above sea level whereas the Mullaiperiyar reservoir is at an altitude of 2,890 feet. Therefore, the dam is of no threat to its inhabitants.

Kerala's allegation the Tamil Nadu government is indifferent to the lives of Malayalees is a travesty of truth. Eighty per cent of the people living between the two dams are Tamils.

The States Reorganisation Commission in its report submitted in 1955 found 90 per cent of the population of Peermedu and Devikulam taluks of present-day Idukki district was Tamil and recommended its cession to Tamil Nadu. K Kamaraj, then Chief Minister, refused to stake his claim to annex the two taluks. Had he done so, the present dispute would not have arisen.

After the release of "Dam 999," politicians in Kerala have literally gone berserk as their behaviour in Parliament on Monday reveals. The frequent question they ask is:
Can't the people of Tamil Nadu recognise the imminent danger 35 lakh Keralites of central Kerala are exposed to and persuade their government to decommission the Mullaiperiyar immediately on their generous offer of continued supply of the Periyar waters from the proposed new dam to be built on Kerala soil?

R Balakrishna Pillai of the Kerala Congress (B), a founding constituent of the ruling United Democratic Front, once declared in the State Assembly when he was the irrigation minister, "Kerala will not give a drop of water to Tamil Nadu." The entire House applauded.

Is it fair on the part of Kerala politicians to ask Tamil Nadu to give up its only legal hold on the Mullaiperiyar, the 1885 Lease Deed, and dismantle the dam when it poses no threat to anybody?

Sam Rajappa is Consulting Editor of THE WEEKEND LEADER

Trending Now: