Study finds popular toothpaste having nicotine content of nine cigarettes in one pack
28-November-2011
Vol 2&nbsp|&nbspIssue 47
Next time you brush your teeth, be careful. Some popular toothpastes and toothpowders in India have high levels of nicotine, a known carcinogen, a study has found.

Researchers at the Delhi Institute of Pharmaceutical Sciences and Research (DIPSAR) tested 10 toothpowders and 24 toothpastes brands. They found large amounts of nicotine in 11 of these non-tobacco products.

The highest amount of nicotine at 18 milligram/gram (mg/g) was found in Colgate Herbal products while 10 mg/g of nicotine was found in Neem Tulsi brand.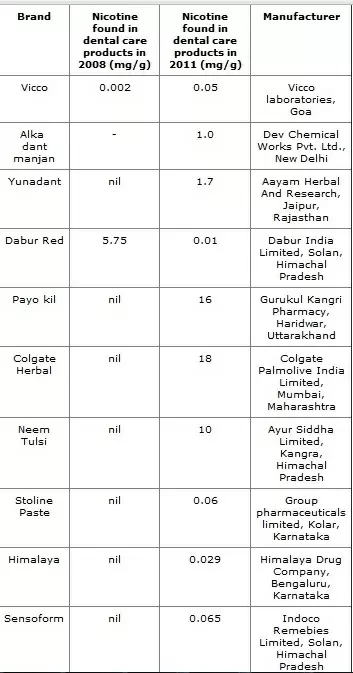 Courtesy: Down to Earth
"Nicotine content in one cigarette is between two and three mg/g. In one of the dental care products we found the nicotine content was equivalent to that of nine cigarettes," says Professor S S Agrawal, project director at DIPSAR.

According to the Cigarette and Other Tobacco Products Act, 2003, no non-tobacco product can contain tobacco and nicotine.

Earlier studies have found tobacco and nicotine in toothpowders. "But this is the first study that has found nicotine in toothpastes," says P C Gupta, director, Healis Institute of Public Health, an organisation dedicated to improving public health in India and other developing countries.

In a study published in the British Medical Journal in 2004 Gupta stated that various tobacco products are used as dentrifice in India.

"Many companies take advantage of a misconception widely prevalent in India that tobacco is good for teeth," Gupta says.

The companies, therefore, package and position their products as dental care products, he adds. "A laboratory test of five samples of red tooth powder that did not declare tobacco as an ingredient found tobacco content of 9.3-248 mg/g of tooth powder," the study stated.

"Nicotine in the toothpastes and toothpowders gets absorbed in the body when it directly comes in contact with the skin. This makes the product addictive," Gupta notes.

"We do not use nicotine or any other tobacco substance as an ingredient in any of our products," says company spokesperson for Colgate. "We have contacted S S Agarwal to learn about the details of his research," the spokesperson adds.

By arrangement with Down to Earth


Trending Now: