Magsaysay awardee Harish Hande launches solar project to electrify 1,000 rural homes
22-November-2011
Vol 2&nbsp|&nbspIssue 46
Magsaysay Award winner Harish Hande has roped in US-based Applied Materials Inc to electrify about 1,000 village households and 10 rural schools across Karnataka using solar energy.
"The objective of this novel initiative, which is more social than commercial, is to provide affordable lighting to the identified households that do not have access to power from state-run utilities and cannot afford capital-intensive solar energy on their own," Hande, managing director of Selco (Solar Electricity Lighting Company) Solar Ltd, told reporters here Monday.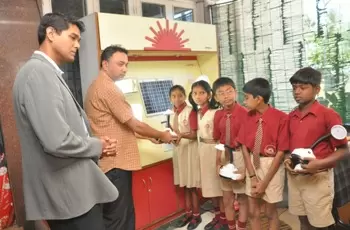 Aninda Moitra, Country President, Applied Materials India, and Harish Hande, Managing Director, SELCO SOLAR present students of Vidhya Niketan school with Solar powered study lamps
The philanthropic arm of the $10.5-billion global semiconductor firm (Applied Materials Foundation) will provide $170,000 (Rs.8.84 million) towards the upfront cost of solar panels, photovoltaic cells and allied equipment to the pilot project, while Selco will install the solar lighting systems and maintain them through its 28 branch offices.
"Our long-term vision is to utilise solar energy to benefit rural communities by applying nano-manufacturing technology. This unique partnership with Selco will provide clean and safe lighting to needy rural households and schools," Applied Materials India president Aninda Moitra said.
According to a World Bank report, about 400 million people across India still do not have access to reliable electric supply and an estimated 100,000 villages in the country are yet to be connected to the national power grid.
"As a result, the deprived rural people and underserved villages are dependent on depleting fossil fuels such as coal and kerosene and other sources to generate power for lighting and cooking, with health and environmental hazards," Moitra pointed out.
On a trial basis, the project has provided solar lighting to about 200 homes and four schools in hamlets across Chitradurga, Dharwad, Shimoga and Sirsi districts in central and coastal regions of the state and Wayanad in Kerala.
"We have followed the bottom up approach in identifying the energy need, customising the product and installing it at the user's doorstep with warranty and after-sales service," Hande said.
On completion of the project, the solar panels and LED (light-emitting diode) lighting system will generate 279 units of energy to provide four-eight hours of electricity to about 10,000 people dwelling in 1,000 rural homes.
Though Applied Materials will bear 15 percent of the total cost of solar panels and allied equipment, the remaining 85 percent cost will be funded by rural branches of state-run banks and cooperatives in the form of loans at subsidised interest rate of 5 percent per annum under the state-run Jawaharlal National Solar Mission.
As the central government's major initiative through states, the mission aims to generate about 20,000 MW of solar power by 2020 and promote ecologically sustainable growth to meet the country's energy security.
Explaining how the system works, the Magsaysay awardee said a solar panel that powers a charging station is installed in a school, while batteries and LED lights are installed at the households of the students.
"The portable batteries, which are of match box size, are carried by students to school daily for charging with the solar-powered stations and are used to power the installed lights in their homes for them to study and their families to do domestic chores with illumination," Hande noted.
The 16-year-old Bangalore-based Selco has provided solar-based electricity to over 125,000 customers across Karnataka, Kerala and Gujarat through its branch network and has set a target of reaching 200,000 households by 2013.
"We are empowering the rural people economically, socially and environmentally through technological and financial innovation," Hande asserted. - IANS

Also Read

Magsaysay award winner Harish Hande lights up rural houses with solar power


Trending Now: