'Che Guevara would have supported Eelam'
16-November-2011
Vol 2&nbsp|&nbspIssue 45
Leftist writer and author, Ron Ridenour, minced no words in making a strong case for bifurcation of Sri Lanka and carving out a separate Tamil nation during a book release function in Chennai last week.
Terming Tamil Eelam as a necessity in view of the bitter history of the struggle spanning several decades, Ron said revolutionary fighter Che Guevara would have supported the Tamil struggle had he been alive.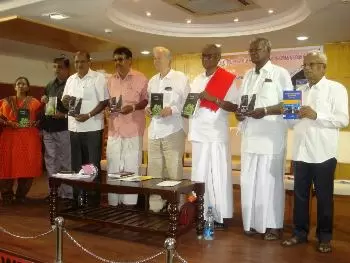 Ron Ridenour with leaders of Left parties during the launch of his book 'Tamil Nation in Sri Lanka' in Chennai
Quoting Che from 'Socialism and Man' he said: "The revolutionary is the ideological motor force of the revolution. If he forgets his proletarian internationalism, the revolution, which he heads will cease to be an inspiring force and he will sink into a comfortable lethargy, which imperialism, our irreconcilable enemy, will utilize well. Proletarian internationalism is a duty, but it is also a revolutionary necessity. So we educate our people."
Ron said, "I believe these principles apply to the Tamils of Sri Lanka. I believe Che Guevara would agree with your struggle for equality and when not possible to achieve within the Sri Lankan chauvinist context, he would understand your fight for your own nationhood."
Author of several books including 'Cuba beyond the Crossroads', and 'Cuba at Sea', Ron has written extensively on Latin American affairs.
He said people of Latin America were unaware of the Sri Lankan government's human rights violations "not just against the Tamils, but also against Muslims, the indigenous tribes, the Sinhalese workers and the poor."
"I got involved in solidarity with your (Tamil) people's struggle because you have been so brutally treated," Ron said tracing the Eelam movement in Sri Lanka
"Perhaps Cubans have not understood the history of struggle that Tamils have undergone to win full equal rights before taking up arms," he said.
Ron recalled that for thirty years the Tamils in Sri Lanka fought peacefully but they were met with brutal force - even worse than that used against blacks in the US, and against Palestinians by Israelis.
He urged the pro-Tamil outfits to contact the communist and socialist parties and the 'indigenous' organizations in Latin America and elsewhere, and explain to them the history of the Eelam struggle.
"You must explain to them your history, why you had to take up arms and fight for separation, for an independent nation. They have to hear of your suffering, of your struggles, why Tamil Eelam is a necessity," he said.
Ron said that progressive governments have won majority votes for new constitutions in Bolivia, in Ecuador, in Venezuela that grant equal rights to their indigenous peoples.
"In Bolivia, under the new constitution there are four official national languages, out of which three are indigenous," he pointed out, adding that such egalitarian developments were taking place in several progressive-pro socialist governments in Latin America.
"If these people could know you simply want these same rights, they would listen to you and stop backing Sri Lanka," he said.
"We must unite around the world and struggle for an independent international investigation into war crimes and crimes against humanity against Sri Lanka government leaders. We must call for a worldwide boycott of Sri Lanka," the writer said.
Ron's book, 'Tamil Nation in Sri Lanka' was released at the function.
Also Read

Unified voice emerging in support of Eelam from Tamil Nadu

Wish to share your story?
Trending Now: