PayPal caught in controversy over promoting caste pride in campus

08-November-2011
Vol 2&nbsp|&nbspIssue 44
The software production wing of a leading American company 'PayPal' is situated in Chennai's IT corridor. For the past few days, a large banner placed outside their building is inviting the attraction of many.

The banner has information about an event called 'Dum dum dum,' the company is holding as part of its annual day celebrations. For this event, they have formed six teams and each team has been given caste names, such as 'Iyers of Tamil Nadu', 'Banerjees of Bengal' and 'Patels of Gujarat'.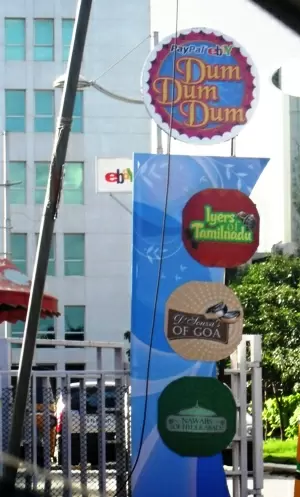 Not so funny: PayPal says Dum Dum Dum is a fun event, but for many there's nothing funny in it
So, on what pretext has PayPal introduced caste in their campus? They claim the theme for this year's annual day is 'Wedding.'

And how is this theme relevant to a company like PayPal, which is a leading player in online money transaction? According to the company, "This is to reinforce the commitment of the company and employees to each other. You are married to your work and the company is responsible for your wellbeing. We are equal partners in a symbiotic relationship."

The 'Iyers of Tamil Nadu', 'Banerjees of Bengal' and 'Patels of Gujarat' are all upper castes in their respective states. So, can we infer that PayPal is instilling a sense of upper caste pride in their employees?

Has PayPal considered the feelings of its other employees, who may belong to the so-called backward castes and scheduled castes?

IT industry is widely believed to have largely contributed to technological developments and economic growth of this country. It is also credited to have provided numerous employment opportunities, hefty salary packages, luxurious lifestyle and foreign opportunities to young graduates.

However, an IT company like PayPal celebrating 'upper caste pride' shows the prevalence of social inequalities in this industry as well.

We cannot ignore this as a mere fun event. Caste oppression in India is equivalent to, or worse than the racial discrimination in America.
Can PayPal organize such an event in their US office by naming the teams as "'whites of Mississippi", or "blacks of Illinois"?

In a company where people from different castes work, celebrating a particular caste which is considered an upper caste is an act of insult to all others. This act of 'PayPal' is nothing but nurturing casteism among its employees.

The practice of casteism in India is one of the worst acts that hinder the growth of society, as it has introduced many imbalances in society and divided the people.

Many activists and their movements have been continuously fighting against caste discrimination and this has led to a considerable social change in Tamil Nadu.

Events like what PayPal is holding threatens to pull back society to the dark ages when certain communities were held in awe and their customs celebrated as worthy to emulate.

We demand:

1) PayPal should publicly apologize for celebrating caste pride in its campus hurting the feelings of so many employees.

2) The company should remove all the caste names from its event schedule immediately.

S Elangovan is a software professional and spokesperson of Save Tamils Movement, a human rights group based in Chennai

Just in

PayPal issues apology on 'caste pride' event in its campus

AN APPEAL TO READERS: Please refrain from using offensive and vulgar language in the Comments section. All such comments will be deleted. Thank you. TWL Team

Trending Now: