Gujarat cop Sanjiv Bhatt granted bail; wife reaffirms faith in judiciary
17-October-2011
Vol 2&nbsp|&nbspIssue 41
A court here Monday granted bail to arrested police officer Sanjiv Bhatt, who has accused Gujarat Chief Minister Narendra Modi of complicity in the 2002 communal riots.
"At 11 a.m. today (Monday), the court pronounced the judgment and granted Sanjiv Bhatt bail," Bhatt's counsel I.H. Sayed told reporters here.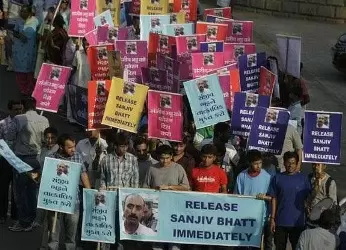 Protests were held around the country demanding Sanjiv Bhatt's release
He was arrested Sep 30 for allegedly forcing a police constable, K.D. Panth, to sign a false affidavit about his attending a meeting called by Modi soon after the Godhra train burning that sparked the riots.

Rose petals were showered on him and his supporters shouted slogans in his favour as he left the Sabarmati jail in Ahmedabad.
"I am happy that the rule of law has prevailed and this would be a victory for hope," a composed Bhatt told reporters outside the jail.
Union Law Minister Salman Khurshid said the court order showed the independence of the legal system.
"No matter how much people speculate and put question marks, ultimately... we have shown our system is independent and it does not get swayed either by public opinion or by any kind of pressure," Khurshid told reporters in New Delhi.

The officer's wife Shweta Bhatt told reporters that she was relieved at the development.
"I am feeling really good and after 18 days I will meet him. My faith in judiciary has further strengthened after this," she said. - IANS

Also Read
We are the family of an upright officer, we will cope up: Shweta Bhatt

In an Open Letter to Narendra Modi IPS officer Sanjiv Bhatt says, 'let the battle begin'

Trending Now: