Irfan and Yusuf to feature in 'spread the word, not the germs' campaign

Marianne de Nazareth
&nbsp | &nbsp Bangalore
15-October-2011
Vol 2&nbsp|&nbspIssue 41
Cricketers and siblings, Irfan Pathan and Yusuf Pathan, will soon be promoting awareness on hand washing with soap, a practice that may prevent the high number of diarrheal deaths among children in India.
According to the United Nations, every day over 1,000 Indian children die from preventable diarrhea caused by dirty water, lack of toilets and poor hygiene.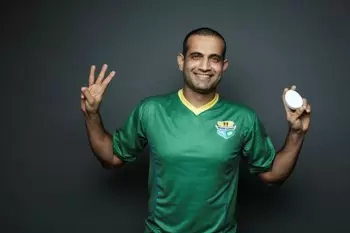 Good act: Irfan will create awareness on hand washing along with brother Yusuf
This puts India in the top spot in the world diarrhea rankings, far ahead of China, Nigeria, Pakistan or Bangladesh.
"We need to educate our kids in school that hand washing is a very important routine that they practice for good health. It also helps cut back on days lost being sick and missing school as a result," states Cheryl D'souza, Principal of Sherwood High in Bangalore."
October 15 is being celebrated as Global Handwashing Day to spread awareness on this hygienic practice,
To mark this day, WASH United, an international coalition, has announced Irfan and Yusuf as their first WASH United Cricket ambassadors, to help "bowl out" diarrheal disease in India.
Irfan and Yusuf will feature in public awareness campaigns on the importance of good hygiene and sanitation in the run-up to the 2012 Cricket World Cup in Sri Lanka.
"We are extremely delighted to have the support of Yusuf and Irfan, two of India's biggest cricket stars, to tackle the country's sanitation and hygiene crisis. Proper handwashing with soap before eating and after using the toilet can reduce the occurrence of deadly diarrhea by almost 40 percent.
"We are very hopeful that Irfan and Yusuf acting as role models for handwashing will help save many children's lives across India," says Thorsten Kiefer, Executive Director of WASH United.
There is probably no other sport or activity that unifies and moves billions of people in India as cricket does.
Cricket stars are the biggest role models for most of our population and so WASH United is harnessing the positive power of sport and sporting role models to promote sanitation and hygiene.
Global handwashing day is a call to action for us in India, to step up and tackle the enduring health crisis that is costing us so dearly in the loss of young lives. It only takes a minute and yet it can avoid expensive visits to the doctor.
So let us all remember to wash our hands with soap - today, tomorrow – and always. And spread the word around, rather than germs.


Trending Now: