Wanted, decent homes for Mumbai's dabbawallas
Quaid Najmi
&nbsp | &nbsp Mumbai
07-October-2011
Vol 2&nbsp|&nbspIssue 40
For 120 years, they have ferried food for hundreds of thousands of Mumbaikars. Now, the city's famed dabbawallas (lunch box carriers) are using their organisational skills to demand homes away from slums and congested tenements.
The 5,000-strong community of dabbawallas, who reach out to more than 200,000 Mumbaikars transporting lunch boxes from their homes to offices and have gained global recognition for their formidable organisational skills, are forming a cooperative housing society and have begun filling individual application forms.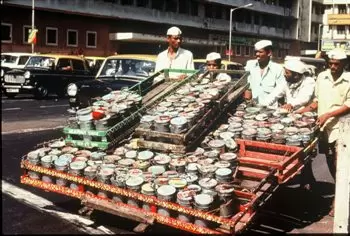 Give them homes: They shunt from home to home carrying food for the Mumbaikars, but they don't have one of their own (Photo: IANS)
"We make life easy for over 250,000 hungry Mumbaikars with timely delivery of their lunch boxes. We have been doing this for the past 120 years," said Subhash Talekar, chief promoter of the proposed Dabbawallas Cooperative Housing Society.
But nobody had ever bothered to look at the plight of the dabbawallas, 90 percent of whom eke out a miserable living in slums or semi-slum conditions all over Mumbai, Thane and Raigad districts, he said.
Irrespective of the weather, dabbawalas, many of them barely literate, pick up lunch boxes from the homes of Mumbai's office workers every morning and deliver them at the work station. After lunch, they pick up the empty boxes and carry them back to the homes of the customers.
They have been recognised across the globe for the meticulously carried out operation, making it to the Guinness records, been the subject of documentaries made by BBC and other television networks.

Besides, they have been studied by students in schools such as the Indian Institute of Management-Ahmedabad, Richard Ivey School of Business in Ontario and the IFIM Business School, Bangalore.
One report quotes a Forbes magazine study as saying the dabbawala delivery system is 99.9999 percent error-free, qualifying it for a coveted Six Sigma quality management performance rating.
But their day-to-day life is quite different.
"Whenever the government wants to glorify itself on the national or international stage, the dabbawallas are praised and their virtues are extolled to the skies. But after basking in the short-lived glory, when the poor dabbawallas return home, they encounter the usual daily problems - long queues to fill up water or awaiting their turns outside common toilets," Talekar said.
"Though we have attained Six Sigma ratings for our efficiency, invited to royal weddings and lectures in top universities worldwide and several documentaries and a (Marathi) film have been made on our lives, the real picture is very different. For instance, both my grandfather who founded the dabbawallas association over a century ago and my father lived in slums. I have recently graduated to living in a chawl," Talekar said.
He hopes the situation will change soon.
After collecting application forms from all the dabbawallas before Diwali, a formal application would be made to the Maharashtra Housing and Area Development Authority (MHADA) for allotment of either ready flats at affordable rates or plots in convenient locations.
Asked why they woke up so late, Talekar said the state government had provided free homes to slum-dwellers and heavily discounted homes to mill-workers and head-load carriers (Mathadis) in Mumbai but nobody had cared about the dabbawallas.
"We have kept away from politics; so we have no political godfathers in any party. Hence we have been ignored for over a century now. Better late than never - now we shall not rest till we are given decent, affordable homes in Mumbai," Talekar said, declining to say whether they would resort to an agitation.
They have approached Deputy Chief Minister Ajit Pawar, who hails from Pune district like the majority of dabbawallas living and working in Mumbai, as well as Pune legislator Dilip Mohite-Patil and Speaker Dilip Walse-Patil for support.
An average dabbawalla, earning about Rs.8,000 a month, couldn't afford even MHADA's subsidised homes - starting at around Rs.4,000 per square foot for a 300-sq ft flat.
"We shall urge Pawar, Mohite-Patil and Walse-Patil, besides Chief Minister Prithviraj Chavan and Home Minister R. R. Patil, to allot us flats at construction cost," Talekar said. - IANS

Trending Now: