Training roadside vendors to make them owners of micro enterprises

08-September-2011
Vol 2&nbsp|&nbspIssue 36
Rambabu Gupta is a slum dweller from Ratu Road in Ranchi. A father of four children, he took home just Rs. 100 after a day's hard work, selling pani poori as a roadside vendor.

He used to be beaten up by the local goons, who demanded illegal levy from him. The police was not helpful, as he was not a licensed vendor.

The situation took a turn for the worst after the High Court gave a verdict to counter encroachment on the streets. As a result of the verdict, he was thrown off the street.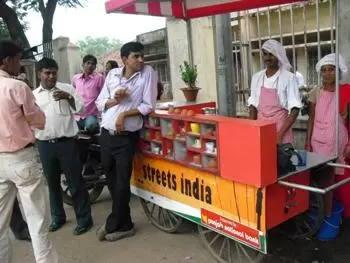 Changing lives: Rambabu Gupta, a street vendor, who used to earn about Rs.100 daily, now takes home Rs.1000 per day, thanks to Streets India
It took away his livelihood completely, putting his family in dire financial straits. He lost all hope of ensuring a bright future for his children as his self confidence depleted.

It was at then that another vendor told him about Streets India. That was about eighteen months ago. The other vendor is one who had benefited from Streets India programme aimed at improving the lives of street vendors.

Today, after strenuous training and mentoring, Rambabu Gupta has turned out to be a fine vendor with an average daily income of Rs 1000.
He is no longer harassed by any policeman or goon. As a licensed vendor, he is happy and confident of a decent future for his children. Two of his children have already started attending school and Rambabu is considered as one of the best pani poori walahs in the vicinity, thanks to Streets India.

Started with a vision to provide hope for families living below the poverty line, Streets India strives hard to capacitate them with a view to elevating their living standard.
Our program focuses on a five point agenda.
The first one involves imparting basic training to the street vendors, referred to as capacity building. The second one is facilitating necessary funds to build carts, purchase vending license, uniforms and raw materials for their day-to-day business through banks and other agencies.
The third agenda is organizing health camps in the form of free medical checkups for the beneficiaries and the fourth one is to provide basic education to their children.
The fifth agenda is to let them develop into successful entrepreneurs with sound ethical principles.

Today we have over 100 carts on the streets of Jharkhand with a vision of expanding the numbers to over 2000 in next three years.

Not many of us know of BPL families, though we all keep hearing the term in newspapers and political speeches. A typical BPL family earns about Rs.25000 per year.

Most BPL families are generally unaware of the brilliant schemes made for them and so often talked about by our political leaders.

Rambabu was one of them. Of course, there may be many more Rambabus waiting to be nurtured to become proud owners of a micro enterprise. We want to reach out to them all and change the way the streets of India look and the way food on the street tastes.

Tanishk Shyamya is The Weekend Leader's 2010 Person of the Year and she works with street food vendors in Jharkhand through her organization Streets India

Trending Now: