Naam Thamilar leader Seeman wants a referendum on Eelam in Sri Lanka

P C Vinoj Kumar
&nbsp | &nbsp Chennai
25-August-2011
Vol 2&nbsp|&nbspIssue 34
A separate country for Tamils is the only practical solution to the never ending miseries of the Sri Lankan Tamils, said Naam Thamilar leader Seeman in an interview to The Weekend Leader.

Seeman said reports of Sinhalisation of Tamil areas clearly established that the Sinhalese had no intention of giving equal rights to Tamils.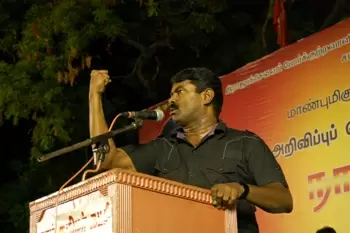 Bold assertion: Seeman says Tamils are ready for an intellectual warfare this time around for the Eelam cause
He said the situation in North Sri Lanka was quite grave.

"Tamil women continue to be raped and their breasts are being cut off by so-called 'grease devils'. The government is doing nothing to prevent the attacks on the hapless Tamils," he said.

Accusing the army of terrorising Tamils in the garb of 'grease devils', he said in one incident the assailants had slipped into an army camp when they were chased by an angry crowd.

"The Sinhalese want to wipe out the entire Tamil race from Sri Lankan soil. But they will not succeed in their efforts. The Tamil community will use its intellect to defeat their plans. This intellectual warfare will be more powerful than any weapon that had been used by Tamil fighters in the past," he said.

Seeman said he would mobilise international opinion in favour of a referendum in Tamil areas with the options of an independent Tamil Eelam or a united Sri Lanka.

"South Sudan was created through a referendum. There are other precedents as well. The Sri Lankan Tamils issue, which has been dragging on for over five decades is a fit case for a referendum," he reiterated.

Asked about Chief Minister J Jayalalithaa's stand on the demand for Eelam, he recalled her support for an independent Eelam during the campaigning period of 2009 Lok Sabha polls.

"Her priority now is to ensure rehabilitation of the displaced Tamils. We will seek her support on the referendum issue," Seeman said.

Seeman said the wheel has turned full circle on the Eelam issue, with the Tamils returning to a peaceful struggle – as in the 1950s and 1960s - after the LTTE's defeat.

"If a solution does not emerge, and the international community is not going to hear our pleas, the Tamils may be pushed to take up arms again to fight for their rights," Seeman said.

Trending Now: