Bumpy ride: Delhi tongas on their last legs
Mohita Nagpal
&nbsp | &nbsp New Delhi
09-August-2011
Vol 2&nbsp|&nbspIssue 31
Plying of Tongas (horse drawn carriages) has been banned in Delhi. But as the following story tells you, there are still many who depend on it for a living. So, is there a way that these men can be allowed to continue doing what they are best at while also taking into account Delhi Municipal Corporation's concern that the tongas hamper free flow of traffic? Will any NGO come forward to help them? Readers can send in your suggestions/ ideas in about 100-300 words to [email protected] The Weekend Leader will publish the better suggestions and if deemed necessary, may forward it to the concerned authorities. Editor

Sunit Nair races against time, but the narrow lanes and the giant horse carriage he is driving won't agree. He reaches the stand and humbly hands over the vehicle to its owner, knowing he's late. He now goes to Munna, who's idling away under shade, and asks him the customary question, "Can I make one trip with your tonga while you are resting?"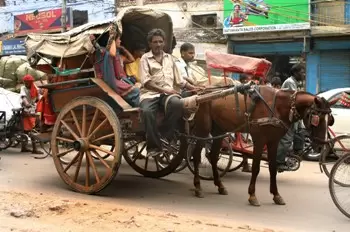 A horse-drawn carriage plying in Old Delhi (Photos: IANS)
Thirty five-year-old Sunit has been a tongawallah for the greater part of his life. So when his horse was seized by the Municipal Corporation of Delhi (MCD) two months back and he was asked to pay Rs.5,000 to get it back, his world came crashing down. What also came down was the number of meals his family now eats and his dream to educate his four daughters.
Though his friends are generous enough to lend him their carriages to make five or six trips a day from Paharganj to Sadar Bazaar in Old Delhi, the Rs.200 he makes will never be enough to get his horse back.
The civic body had last year banned these splendidly-decorated carts -- their ancestors date back to the glorious Mughal days -- to declog the city's heavily populated roads in the run-up to the 2010 Commonwealth Games (CWG).
But the old mode of transportation, for long symbolic of the city's colonial charm, continues to clip clop along some narrow bylanes of Old Delhi - however arduously.
"Hum to police ki lathi kha ke parivaar ka pet bharte hai (We feed our families by taking the beatings of police)," says Sitaram, a tongawallah for 40 years.
Supporting a family of 10, Sitaram has an ever-worried look on his face. Looking at his cart, you can't tell who's older, he or the cart. So you know he's not lying when he says that running the tonga is the only skill he knows.
"This is our ancestral business. This is all I know, I'm too old to do anything else. But the police don't let us be," says Sitaram, even as he keeps looking back to check if there are any policemen approaching, knowing that plying of tongas is illegal.
Once he reaches the Paharganj tonga stand, he lets out a big sigh. "I'm in safe territory now," he smiles, revealing his gutka stained teeth.
According to him, there were over 10,000 tongas and over 50 tonga stands around two decades back. But now the MCD has razed most of the stands.
According to MCD public relations officer Deep Mathur, however, there's not even a single stand left in Delhi. "In my knowledge, there are no stands and no tongas in Delhi. If there are, then it's illegal," says Mathur.
Once the preferred mode of transportation of the high and mighty, a horse carriage can accommodate six people at a time and with a fare of just Rs.7, it's definitely one of the cheapest. Add to that the elevated view and breezy ride it offers, and it definitely makes for a charming joyride.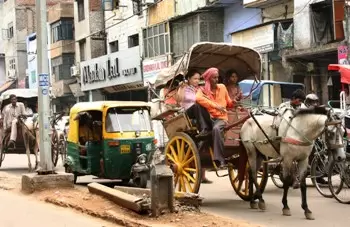 There were over 10,000 tongas and over 50 tonga stands around two decades back.
Sunit does a little flashback when he talks about how foreigners used to be thrilled on seeing a horse cart.
"Even now, sometimes kids get so excited on seeing a tonga," he says, even as a faint smile begins to form on his face.
According to Lal Singh, a representative of the tongawallahs, though the civic body has come up with a rehabilitation plan, there are a lot of problems with it.
The MCD has allotted a 'tehbazari' (vending) site in east Delhi's Shastri Park to set up new businesses.
"It's only a 6/4 area. On top of it, they have put 15 conditions. One of the conditions is that we can't put a shed...how do they expect us to work in such heat without a shed?" he asks.
Twenty five-year-old Navinder, one of the youngest tongawallahs, adds aggressively: "First of all, the site is very far as most of us live in Paharganj. Secondly, we'll never be able to make more than Rs.250 there... I don't understand the whole point of this rehabilitation."
Lal Singh says they have met Chief Minister Sheila Dikshit and even written to Prime Minister Manmohan Singh, but the end seems inevitable.
Even as he begins to make another reference of the police brutalities, Sunit suddenly gets up and walks up to another tongawallah sitting at a tea stall and asks the customary question. "Can I make one trip with your tonga while you are resting?" - IANS

Trending Now: