Mumbai blasts: experts draw attention to failure of intelligence agencies
Sarwar Kashani and George Joseph
&nbsp | &nbsp New Delhi
18-July-2011
Vol 2&nbsp|&nbspIssue 28
The latest terror bombings that ripped through India's financial and entertainment capital have shifted the focus back on the much-awaited police reforms and the absence of preventive intelligence gathering in India.
Reforms would mean doing away with the colonial legacy in the form of the archaic Police Act of 1861, if the nation is to be saved from terrorist outfits and homegrown subversive elements, say experts working on bringing about these changes.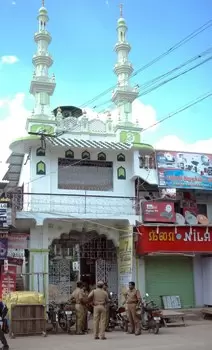 Over-worked police: The government has not acted on even such simple recommendations as to separate the investigation, and law and order functions of the police
According to official figures, India's police-population ratio is just 120 per 100,000 people. Globally the ratio is an average of 270.
India has over 20 big and small central intelligence and security agencies - including the Intelligence Bureau (IB), the Central Bureau of Investigation (CBI) and the National Investigation Agency (NIA) - apart from state police intelligence wings.
India's capacity to repel a terror attack may have improved but the country still lacks the ability to pre-empt such strikes, experts say. Ground-level intelligence gathering is too poor to prevent modern threats.
When Ajai Sahni, a known security expert, was asked if he thought there are chinks in India's security establishment, he quipped: "There are gaps, enormous gaps. Can you believe that India's main internal spy agency, the IB, has less than 5,000 field agents to gather ground information from a population of 1.2 billion?"
"And their primary job is to do political intelligence for the ruling parties," he adds.
Police officer-turned-activist Kiran Bedi wonders how much the Indian police force reinvented itself after the (2008) terror attack in Mumbai. "You are managing a crisis by creating these intelligence agencies, not preventing a crisis. How will you prevent terrorism in the absence of a trained policeman who is your eyes and ears on the ground?"
Sahni, who runs the Institute for Conflict Management that focuses on internal security research in India, stressed the importance of ground-level intelligence gathering.
He recalled an old intelligence gathering system in the country of having a watchman in every village. Those village watchmen used to report to intelligence officers at the local police station every day with whatever information they had.
"This system has been done away with. But we need a system like this. Not the redundant meta-institutions like the NIA, which are wasteful energy hubs. Nothing prevents terrorism than local intelligence gathering.
"You can have a whole web of technology to aid these agencies. You can have a grid or a data centre linking 21 databases. You can have National Counter Terrorism Centre. But if the input doesn't come from the ground, what will you feed them with and what will you work on?"
Former director general of Border Security Force (BSF) E.N. Rammohan feels that politicisation of the intelligence agencies have diverted them their prime duties.
"The intelligence agencies need to be de-politicised to make them professional and ready them to take up the challenge against terrorists," he added.
P.K. Hormis Tharakan, former chief of the Research and Analysis Wing (RAW), said a "coordinated effort" in intelligence gathering was needed to tackle the terrorist threats.
But he said it was incorrect to say the post-26/11 efforts were non- productive.
The long interval of 17 months between the last major terror strike and the 13/7 blasts may be because of these anti-terrorism measures, he said.
Since 1979, governments have set up a number of commissions to reform the police but their recommendations have been largely ignored.
In October 2005, the union home ministry constituted the Police Act Drafting Committee (PADC) - commonly known as the Soli Sorabjee Committee - which submitted a model police act a year later.
The Supreme Court on Sep 22, 2006, acting on the former police officers' petition, asked the central government to kickstart reforms which included separating the investigation and law and order functions of the police and put in place a system of preventive intelligence gathering system.
But all that is still awaited. - IANS


Trending Now: