The 'hidden hand' in the 'Killing Fields of Sri Lanka' exposed: It's India

M G Devasahayam
&nbsp | &nbsp Chennai
15-July-2011
Vol 2&nbsp|&nbspIssue 28
The air has been full with the "Killing Fields of Sri Lanka", the Channel 4 documentary. The visuals showed naked Tamil prisoners shot in the head, dead bodies of naked women who had been raped and dumped on a truck and other atrocities committed by the Sri Lankan armed forces in the final moments of the brutal civil war. World has never seen such barbarian brutality. Anyone who saw the documentary was numb with disbelief.
The authenticity of the footage has been confirmed by a forensic pathologist, forensic video analyst, firearms evidence expert and a forensic video expert of international repute and the images are horrific.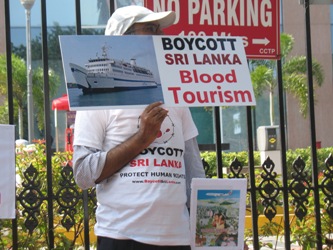 Meaningful silence: While worldwide protests have condemned Sri Lanka's atrocities against Tamil minorities, India has maintained silence giving the impression it has endorsed Rajapaksa's massacre of Tamils. (Photo above shows a demonstrator from May 17 Movement in Chennai holding a placard calling for boycott of Sri Lanka)
While the world seethes in anger, India has been silent. Not surprising, given the fact that fresh from his 'victory' over Tamils in Sri Lanka in May 2009, President Mahinda Rajapaksa said he had fought 'India's war'. He was ecstatic of the fact that his victory coincided with Sonia's electoral victory. The ecstasy appeared to be mutual.
Given the venal Indian mindset, Tamils in post-war Sri Lanka have been progressively reduced to serfs of the Sinhalese. This is endorsed by David Miliband and Bernard Kouchner, former foreign ministers of Britain and France respectively, when they wrote after a recent visit to Sri Lanka: "Tamil life is treated as fourth or fifth class citizens. If foreign policy is about anything, it should be about stopping this kind of inhumanity."
There is an untold story about how New Delhi became instrumental in the brutality and the present inhuman sufferings of Sri Lankan Tamils. In the 2005 presidential election, Rajapaksa of the Sri Lanka Freedom Party (SLFP), a known hawk, won by the narrowest of margins. As President he wanted to outlive his image of a hawk and establish rapport with the Indian government and leadership, but was repeatedly rebuffed and in fact snubbed.

This made Rajapaksa realise the importance of involving civil society in Tamil Nadu to resolve the intractable ethnic problem in his country and act as a bridge between the two countries.
After much persuasion by Colombo, a small core group of retired civil servants, senior journalists and military veterans was formed with myself as the convener. The group held its preliminary meeting in Chennai on 10 May, 2007, with a senior adviser to President Rajapaksa, participating. It was unanimously agreed that a mutually acceptable political package was the only lasting solution to the ethnic crisis.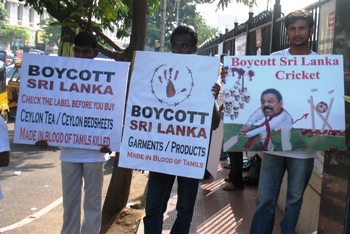 The group met President Rajapaksa and his high-level team in Colombo on 17 July, 2007. Throughout the long discussions, Rajapaksa was very much involved and positive. He fully endorsed the group's opinion expressed by me that the solution to the crisis should emerge from within Sri Lanka and refined through international opinion, particularly from India. After these parleys Rajapaksa made a public statement hinting at a merged, autonomous North-East, a solution just short of Tamil Eelam.

Following this, the core group had a series of meetings with Rajapaksa's team of ministers and officials and agreed upon many steps to resolve the conflict. A crucial conference was held with President Rajapaksa in Colombo on 25 March, 2008, followed by meetings with Sri Lankan Minister for Constitutional Affairs and National Integration, Chairman of Official Language Commission, and others. An action agenda was set.

The Indian High Commission in Colombo got wind of the group's activities and the Deputy High Commissioner, A Manickam, sought an appointment with me and it was fixed at 5 p.m. at the hotel I was staying in.

Manickam never kept his appointment but the Indian High Commission later reprimanded the Sri Lankan presidential team for holding peace talks with 'unauthorised' persons.

To fortify these initiatives I wrote to TKA Nair, my former colleague and presently principal secretary to Prime Minister on 01 April, 2008. The letter outlined the progress made by the group and the action agenda that has been set for political resolution and Confidence Building Measures.
It requested the government to support the initiative taken by the group to end the long-festering political and humanitarian crisis in the island. But there was no response.

Had New Delhi taken cognizance of this initiative and acted in concert by putting some pressure on President Rajapaksa, the issue would have been resolved and Tamils would now be living in the island with honour and dignity.

But instead, pursuing somebody's personal agenda of 'Sicilian Revenge', New Delhi minions with a well-synchronised Network in Colombo, New York and Geneva, actively assisted the brutal Sri Lankan genocide. No wonder, Delhi is deafeningly silent today on Sri Lanka's excesses.

Time is not far when Rajapaksa & Co is hauled up before the International Court of Justice for war crimes and genocide. In the event, New Delhi minions cannot escape responsibility for this inhuman horror. The bell is tolling!

M G Devasahayam is a retired IAS Officer
Also Read: The Sri Lankan army is essentially Sinhalese and it has an inherent hatred for Tamils


Trending Now: