Intellectuals and activists support the Tamil cause across the language divide

Paul Newman
&nbsp | &nbsp Bangalore
08-July-2011
Vol 2&nbsp|&nbspIssue 27
One nagging question that cropped up at the Forum Against War Crimes and Genocide meeting on July 2, 2011 at Bangalore was: How could the media be a mute spectator to a gross human rights violation taking place in our immediate neighbourhood?
It was a public meeting jointly organized by a federation of 12 organisations, including Karnataka students' organization, All India Progressive Women's Association, and National Coalition of Human Rights Organization, under the theme of "War Crimes and Genocide against Tamils in Sri Lanka."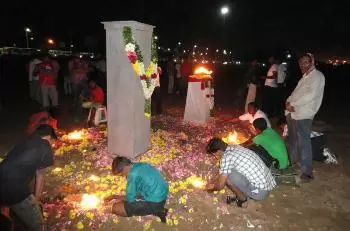 In memory: A youth led May 17 Movement in Chennai mobilized thousands on June 26, 'International day in support of Victims of Torture' in Marina beach to observe a candle light vigil for Tamil war victims
The Forum's convener was well-known activist from Andhra Pradesh, Hargopal - famously known as one of the negotiators who secured the release of a district collector in Orissa from the Maoists.

The meeting saw a plethora of questions from the audience on the Indian foreign policy making. When the whole world has read the UN Panel report on War Crimes in Sri Lanka, and some of the western powers have even reacted to it, why is India remaining silent?

Nagaragare Ramesh of People's Democratic Forum emphasized the need for an independent enquiry by UN into the war crimes in Sri Lanka.

"The human rights abuse during the war is disturbing. Not just the Tamils but everyone should raise their voice against the human rights violation in Sri Lanka," he said. With moist eyes he said that such things are a grim reminder that geo-political needs of countries can wipe out humanity irrespective of who they are.

Writer G Ramakrishna urged for an immediate relief to the Tamils. "The war has only devastated the lives of civilians. The people responsible for this disaster should be punished," he said.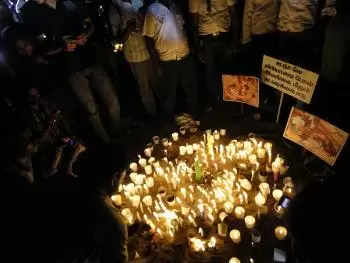 Symbolic light
: The thousands who gathered to light candles in Chennai for the Lankan
Tamils
have demonstrated that the voice for justice will only get louder and not weaker in the days to come
The meeting was not an event in isolation. On May 23, there was a massive rally organized in the north Karnataka town of Hubli in protest against the Indian apathy towards the Sri Lankan Tamils issue.

At Mumbai, the Youth against War Crimes and Genocide have been organizing a series of public awareness programmes.

These groups are using authentic documents and visuals like the Permanent People's Tribunal's report on War Crimes against Sri Lanka, The International Crisis Group report, the UN Panel of Experts report, What Can We Do (A book comprising 300 gory color photographs of the Sri Lankan civil war) and the Channel 4 documentary 'Killing Fields of Sri Lanka,' in their campaign that has begun to strike a chord among the Indian intelligentsia.

It is significant that an Indian channel, 'Headlines Today' chose to telecast the Channel 4 documentary on July 7.

On July 3, the Andhra Pradesh Chapter of Forum against War Crimes and Genocide had organized a similar programme where the main speakers were Suresh of APCLC, Murali (HRF), Naraya Reddy (OPDR), Latif Khan (CLMC), Venugopal (VIRASM) and Chandana Chackravarthy (The March).
What is heartening is the involvement of intellectuals and activists from all backgrounds taking up a just human cause that has so far been branded as a Tamil linguistic issue.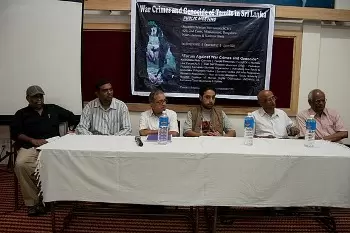 Humanity triumphs
: The Bangalore meeting proves that the misinformation campaign on
Tamils
issue carried out by
pro-Rajapakse
forces is slowly coming apart
M G Krishnan, former Registrar and Professor of Political Science from Bangalore University says, 'If Sri Lanka can teach 44 countries around the world how to wipe out terrorism by wiping out an innocent civilian population, we can teach the world what justice, peace and humanity is by creating awareness about this human catastrophe and ensuring that the Sri Lankan experience is not repeated in any part of the world."

Since last year the students union of the Jawaharlal Nehru University, New Delhi, has been organizing a series of seminars and conferences highlighting the plight of the Tamils.

Justice Rajinder Sachchar, Jagmogan Singh, Editor World Sikh News, SAR Geelani, Committee for Release of Political Prisoners, GN Saibaba, Vice-Chairperson, International League of Peoples' Struggles, S. Santosh, visiting faculty in School of Arts and Aesthetics, JNU, A. Bimol Akoijam, Professor of Sociology, JNU, and a host of others have been involved in the debate not only on the Tamil crisis, but also the role of India in protecting Sri Lanka.

More events are being planned across India. There will be consultative meeting in Kolkata on July 16 and 17 and more initiatives in West Bengal. There will be similar meetings in Kerala too.

The Forum is planning to convene a conference in August in Delhi coinciding with the parliamentary session, where the Communist Party of India (CPI), Ram Vilas Paswan and the leader of the Opposition Ms.Susma Swaraj have promised to take up this issue.

Human Rights activists also plan to meet parliamentarians and distribute CDs of the Channel 4 documentary along with other evidences.

The response of the Bangalore audience to the documentary and the expert talks was summed up by Tejasvini Gowda, ex- Member of Parliament who said, "Whoever was the victim, it was humanity that suffered and the culprits should not be allowed to go scot free."

The author holds a Doctorate of Philosophy on 'Internal Displacement and Human Rights situation in Northern Sri Lanka from Bangalore University. He was one of the four public speakers at the Permanent People's Tribunal on War Crimes against Sri Lanka
Also Read: Eelam inevitable

Wish to share your story?
Trending Now: