A war cry from London to save Goa from plunderers of resources
Mayabhushan Nagvenkar
&nbsp | &nbsp Panaji
01-July-2011
Vol 2&nbsp|&nbspIssue 26
Concerned about the plunder of resources caused by rampant mining in Goa, non- resident Goans (NRGs) in London have come together in a bid to end the pillage. The 'Save Goa Campaign UK' has been started by Carmen Miranda, a former director of the Panos Institute. She claims that rapacious mining in the state's hinterland has put Goa and its people in jeopardy.
"The campaign will help spread awareness amongst the Goan community abroad. Donate and help raise funds for activists and organisations in Goa that are taking legal and other actions," said Miranda.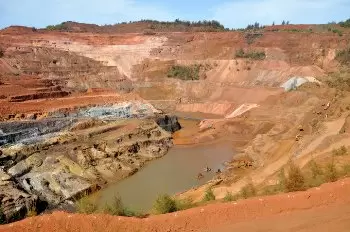 A mining pit in Shigao mines in Bicholim sub district of north Goa
Miranda, who has been actively lobbying with the union Environment and Forest Minister Jairam Ramesh over the last few years on the issue of the disastrous effects of unplanned mining in the state, believes that Goa is being virtually "dug out of existence".
"The Grand Canyon (Arizona, US) took millions of years through natural processes. In Goa, the process at one of the mines took less than 50 years. We are digging out our own grand canyon at incredible pace," said Miranda, who has been documenting the ravages caused by open cast iron ore mining in Goa over the last several years.
Over 110 mines are in operation in Goa and 130 are awaiting clearance. Some 600 million tonnes of mining rejects are dumped in about 50 villages spread across the state's mining belt. Over three-fourths of over a million trees have been legally ordered to be cut by the Goa forest department, largely for mining purposes.
These are some of the startling facts Carmen came across while documenting the vastly unpopular mining phenomenon in Goa.
"Goa has 46 percent of iron ore leases granted in India, while it is only 0.1 percent of Indian territory," said Miranda. According to the Indian Bureau of Mines, she added, Goa had been granted 359 of the 769 mining leases for iron ore that have been issued in the country.
"Over eight percent of Goa's territory is under mining... Through 'Save Goa campaign UK', we are appealing to the people to take part in lobbying to ensure no new mining leases are approved," she said.
Carmen's campaign has already stirred a buzz on the internet with renowned environmentalists pitching in with their views.
"In Goa, there are groups of very, very solid citizens who love their home and life itself. If we can be the wind under their wings, we will have done ourselves so much good. I do not understand what it is that makes people crave for money so much that they would sell their souls. What will the next generation remember us for?" said Bittoo Sehgal, editor of Sanctuary Asia.
Goa's more than 100 operational mines are run by mining firms like Sesa Goa, a Vedanta Resources-owned company, V.M. Salgaonkar and Brothers Ltd, Salgaonkar Mining Industries and Fomento Resources Group.
The opposition has accused several ministers in the Goa cabinet of being involved in illegal mining trade. According to leader of opposition Manohar Parrikar, nearly 18 percent of Goa's annual output of 40 million tonnes of iron ore is illegally mined. - IANS


Trending Now: