Giving status to vegetable selling through an MBA from IIM

Kavita Kanan Chandra
&nbsp | &nbsp Mumbai
01-July-2011
Vol 2&nbsp|&nbspIssue 26
You do not need to be an MBA to sell vegetables. But with 30-year-old Kaushlendra Kumar from IIM, Ahmedabad, choosing to do it, the socio-economic status of some 3000 poor farmers and 500 street vendors in Bihar has gone up. Kumar has also brought respectability to vegetable farming and selling through his innovations.
Kaushlendra has introduced the farm fresh produce (FFP) Retail and supply chain model in which farmers and street sellers are directly partnered.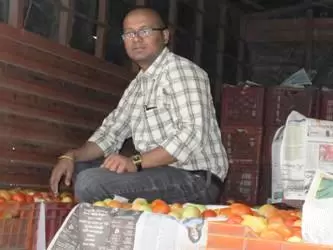 Corporate vendor: Kaushlendra Kumar has used his IIM degree to change the lives of 3000 farmers and 500 vegetable vendors
"The farmers know how to do farming but did not know the technique to enhance production and didn't have a market," said Kaushlendra, who has established the brand 'Samriddhi' and helps in organizing and professionalizing the vegetable growers and sellers through his
organization, Kaushalya Foundation.

Enumerating the limitations for a small farmer in Bihar, he says that 90 percent of them do not have access to Government schemes or credit from banks. Neither do most farmers own the land, but cultivate in patches of land on rent, lease or other harvest/ profit sharing basis. The Kaushalya Foundation organised such vegetable farmers into small groups.

As for vegetable vendors, they lead a hard life as most of them are migrants from villages. About 60 percent of them are women. They endure harassment from police and municipal bodies. The activities of procurement, transportation, cleaning/washing, sorting, arranging, handling the customers and wastage due to lack of storage also take their toll. They were also brought under the banner of Samriddhi.

"Since our intervention in 2007 the farmers' income has increased from 25-50 percent and those of vendors by as much as 60-100 percent", said Kaushlendra.

One Rahul Rajan from Gokul Bigha of Nalanda District saw an opportunity in farming and left a job at Vodafone in Delhi and even bought a new car from the farm income.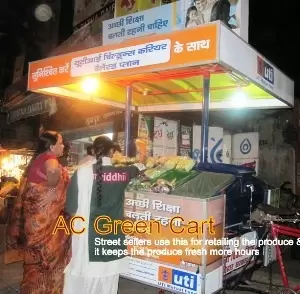 The vendors earn up to Rs 8000 a month and their working time has been reduced from 14 to 8 hours daily. They now sell 'Samriddhi' vegetables from designated sale points from trendy Samriddhi AC Green carts that keep the vegetables fresh for longer hours.
Hailing from a remote village in Nalanda in Bihar, Kaushlendra did his primary education at the village and moved to Nawada town to do his secondary education.

But it was at Gujarat Agriculture University that the contrasting landscape of Gujarat and Bihar in the agricultural sector triggered a thought that if an arid Gujarat could be prosperous than why not a resourceful Bihar?

He had grown up seeing the life of drudgery of Bihar small farmers. He was particularly moved by the mass migration and poverty of vegetable growers in 1987 when a devastating flood ravaged the only railway track connecting their village to Patna's wholesale vegetable market.
The young mind was tortured and the son of the soil vowed to do something for his fellow people.

"Kaushlendra has built a strong social capital and this shows how hardworking and honest he is to this social enterprise", said P K Sinha, Professor of Marketing and Chairperson of Retailing at IIM-Ahmedabad and Kaushlendra's mentor.
Kaushlendra works with farmers in the districts of Patna, Nalanda, Arra, Jahanabad, Navada and Gaya in Bihar and in nearby villages of Lucknow in Uttar Pradesh.
The vegetables are transported at low cost to the processing & packaging centre at Patna. There is one at Lucknow too.
The vegetables are processed, packaged, labelled with bar-code and price tag and then distributed to the designated sales points in the city.
Kaushlendra says he doesn't calculate profit. But this venture has become profitable for all stakeholders.


Trending Now: