Amnesty International demands release of 'chained' activist Ramesh Agrawal
Sujeet Kumar
&nbsp | &nbsp Raipur
15-June-2011
Vol 2&nbsp|&nbspIssue 23
Support is pouring in for Chhattisgarh environmental activist Ramesh Agrawal who was found chained to a hospital bed on June 2. The 55-year-old man was shifted there after his blood pressure shot up in jail.

Known for protecting local communities from industrial pollution and displacement due to industrial projects, Agrawal has been jailed along with his associate Harihar Patel. Amnesty International, activists and politicians have condemned the arrest of Agrawal and Patel.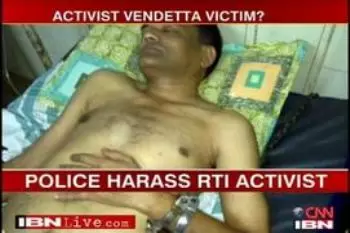 Heavy price: Ramesh Agrawal took on the Jindals and paid the price (Photo Courtesy: CNN-IBN)
Amnesty said in a statement recently that the "authorities must immediately release (the) two activists arrested apparently for their work to protect local communities from industrial pollution".
As per Raman Agrawal, the eldest son of Agrawal, the story goes something like this:
On May 28 morning, some 40 policemen stormed into their residence in the industrial town of Raigarh and took away his father on a complaint filed by the Jindal Group. The company has a steel plant in Raigarh and is building a 2,400 MW thermal plant at Tamnar.
Agrawal was arrested under Sections 501, 502, 503, 504 and 505 and 294 of the Indian Penal Code (IPC) that deals with defamation and obscene acts.
Raman alleges that the Jindal Group had been gunning for his father for years for his undeterred campaign on environmental pollution in Raigarh. "Last year, the ministry of environment and forests cancelled the terms of reference to the company's Tamnar project on the basis of a complaint letter sent by my father," Raman said.
The story of Agrawal's arrest and subsequent torture by police authorities is now getting global attention.
"It appears that Ramesh Agrawal and Harihar Patel have been targeted for their work to defend the human rights of local communities. We're urging the authorities to drop all charges against them and immediately release them," said Amnesty International Deputy Director (Asia-Pacific) Madhu Malhotra.
According to a statement posted on the rights group's website June 3, Malhotra says: "Shackling someone who is ill to a hospital bed is (an) inherently cruel and inhuman punishment that should never have been used on a detainee arrested for peaceful activism."
However, Chief Minister Raman Singh rejects the charges that the state is hostile to activists.
"Every citizen has the right to air his or her opinion in a peaceful manner and the Chhattisgarh government respects activists and has all regard for them," said Raman Singh, who leads the Bharatiya Janata Party (BJP) government in the state.
He said the government has nothing to do with the issue of Agrawal and the police acted only on the written complaint of the local industry.
But when asked about his reaction to Agrawal's chaining incident, the chief minister said "it's wrong; police should follow the norms".
The opposition has been swift in its offensive against the government.
"The situation in Chhattisgarh for activists is very hostile," said Congress leader and former chief minister Ajit Jogi.
Agrawal could very well be another Binayak Sen in the making -- the latter being the doctor who was awarded a life term by a Chhattisgarh court for alleged links with Maoists but later released on bail by the Supreme Court. - IANS


Trending Now: