Indian civil liberties groups are now geared to fight the draconian IT Rules

Akash Bisht
&nbsp | &nbsp New Delhi
11-May-2011
Vol 2&nbsp|&nbspIssue 18
There is a price for liberty and that is eternal vigil against forces that seek to grab it from you. Civil Liberties groups are now coming to terms with the recently issued Information Technology Rules 2011 of the Government of India, which they fear would curtail the freedom of expression of Internet users in the country.
The People's Union for Civil Liberties (PUCL) is taking steps to bring the issue to public attention. Recently, Pushkar Raj, general secretary of PUCL, forwarded a mail that contained a couple of links of published articles on the subject to his contacts.
The Rules aim to restrict web content that can be considered 'disparaging', 'harassing', 'blasphemous' or 'hateful'. "We want to bring this issue to public attention," Pushkar said.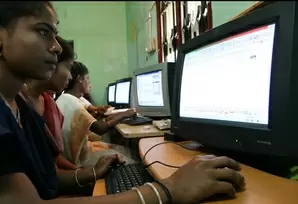 Lurking danger: Oblivious to many internet users, the IT Rules 2011 seeks to restrict their online freedom (Photo: Senthil Kumaran)
India's new IT Rules has already caught the attention of the international media, which sees it as an attempt to curb freedom of expression of internet users. The New York Times ran a story with the headline, 'India puts tight leash on Internet free speech.'
The article pointed out that the new rules "allow officials and private citizens to demand that Internet sites and service providers remove content they consider objectionable on the basis of a long list of criteria."
Pushkar expressed concern about these new rules and its impact on the debate and discussion on the internet that is gaining popularity among the estimated 100 million internet users in the country.
According to one of the rules, internet intermediaries – for example, internet publishers or popular websites like Facebook, You Tube etc - have to respond to any demand made by any individual or group to take down content that they consider offensive within 36 hours. "It is a dictatorial directive. Anybody can interpret this to his liking and demand any website to take down such 'offensive content'," says Pushkar
According to the new rules, the objectionable content also includes anything that "threatens the unity, integrity, defense, security or sovereignty of India, friendly relations with foreign countries or public order''. An article in www.medianama.com reacted to this clause stating: "didn't the Jan Lokpal protests threaten public order, and wasn't a lot of the commentary online anti-government? Who decides whether 'anti-government' statements are 'anti-national, or for that matter, statements criticizing a particular politician or political family?"
Centre for Internet and Society is also critical of these rules. "There are many areas of concern and it is a disservice to the freedom of expression. There is a clause wherein cybercafé owners can fine somebody watching pornography. Only courts can decide what is offensive and not cyber café owners," says Sunil Abraham, Director, Centre for Internet and Society.

Pushkar sums it up: "Democracy helps nations evolve into greater civilisations, but once you restrict thoughts there is no possibility of going ahead. These new set of rules are problematic and can have wider interpretations and thus need to go. "


Trending Now: