Helping migrant quarry workers lead a dignified life is Santulan's mission

Kavita Kanan Chandra
&nbsp | &nbsp Mumbai
29-April-2011
Vol 2&nbsp|&nbspIssue 17
Bastu Rene always had the urge to serve the underprivileged. But his foray into the world of stone quarry workers was accidental. One evening, while working with an organisation at Pune-Nagar Road in 1997, he witnessed a child on a bicycle crushed by a dumper lorry from a stone quarry. As Bastu ran after the dumper, he entered a stone quarry, where he was shocked to see the living conditions of workers.
The Wagholi stone quarry, some 10 km from Pune, had a migrant population of contract labourers, living a life of hardship with no amenities. "I witnessed human right violations that left me deeply disturbed," says Bastu. A plethora of pathetic stories emerged as he interacted with the workers and he decided to take one issue after another.
"We started strategically with educational programmes for children of workers in Wagholi and slowly won their confidence," recalls Bastu, the 47-year-old founder of 'Santulan' (Social Animation Towards United Liberative Action).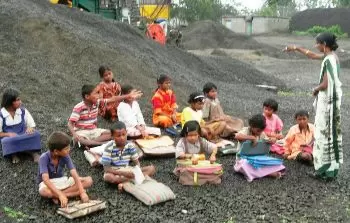 Power classes: Bastu Rene believes in empowering the children of quarry workers through education
The second step was to unite the workers, and form labour unions. The influential mine/ quarry owners did not even maintain a list of names of workers. He started working on various legal and advocacy issues. Through rallies, legal notices and filing PILs in Mumbai High Court, the workers now have ration cards, names in voting list, access to health system, protection under insurance policy and other benefits.
However, many issues still remain unaddressed. "There are 32-35 lakh workers in Maharashtra in 20000 stone quarries but the Government has no special legislation to protect them or ensure their safety," says Bastu.
Currently, Bastu is engaged in talks with the State Government to have some legislation similar to domestic workers protection act or the construction building workers act so that this vulnerable section of society is protected. The demand is to create Stone Quarry Workers Board and a Stone Quarry Workers Protection Act.

Being a farmer's child in the village 'Nesri' in Kolhapur district in Maharashtra, he had seen hard times and was keen to help people in need when he grew up. After his schooling from the village and Adra town, graduation from Goa and a master's degree in Social Work from Mangalore, he started working in Pune.
That was when his life took a turn after he witnessed the plight of the Wagholi stone quarry workers in 1997. His organization provides informal education to children of quarry workers through an innovative programme that is now being conducted in 150 places across 18 districts.
Bastu says Maharashtra is predominantly rich in Basalt stone that is used in the construction industry. Traditionally people from the 'Vadars' caste were engaged in stone breaking but rapid construction activities saw scheduled caste, tribal and peasant workers coming to quarries from Maharashtra, Karnataka, UP, Andhra Pradesh and other states.
Living in shacks, they had no access to safe drinking water, schools or health care. With no proof of identity they remained uncovered by state Government policies and schemes.
To aid the workers, Bastu later studied law, funding his education by rearing cows. His wife, Pallavi, manages 'Santulan' with him. The couple has faced threats and constant opposition from the powerful stone quarry owners lobby. In 2005 their vehicles and offices were burnt, but they remain focused in their work.

Trending Now: