Taking 'Kishori Balika' from paper to the anganwadi

India Unheard
&nbsp | &nbsp Goa
25-March-2011
Vol 2&nbsp|&nbspIssue 12
The Weekend Leader recently carried a report on India Unheard, the country's first community based news service being run by the Goa based NGO, Video Volunteers. This is the second part in a series of India Unheard impact stories that will be published in The Weekend Leader by a special arrangement with Video Volunteers. Editor

Sujak, a monthly publication, had the details of 'Kishori Balika' scheme, which is part of a larger programme of the Rajastan government aimed at delaying the age of marriage, reducing the incidence of teenage pregnancies and maternal deaths, and generally improving the nutrition and health of adolescent girls.

But when Community Correspondent (CC) Sunita Kasera of Karauli checked out if the scheme was being implemented in her neighbourhood, she realized that it was not. Girls between the age of 10 and 19 were not actually receiving what they were entitled under this scheme: iron tablets, and information about sexual health, menstruation and pregnancy.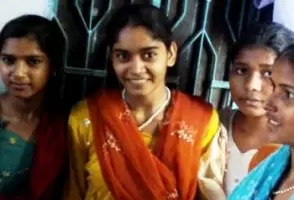 Empowered women: Sunita Kasera raised awareness about a government scheme for young women and pregnant mothers and made the administration implement the scheme in a village
In Rajasthan, where child marriage is quite common, the scheme is especially important. But no one benefited from it in Karauli. Since Kasera is a member of Karauli's press union – the only woman reporter in the district to have the privilege - she receives Sujak, which describes the various government schemes in place. So that prompted her to do the reality check.

Sunita shot a video, in which the majority of the people she interviewed during her survey had heard the name of the scheme before, but didn't know anything more about it and had definitely not received any of its provisions.

She learned from the women that sometime back assistants from their Anganwadi centre (government-run pre-school) had visited them to collect information on number of adolescent girls and pregnant women in the village. But there had been no follow-up action. When Sunita went to the Anganwadi and enquired why they had not initiated any follow-up action, they refused to give her an interview and said that they had not received any tablets or instructions.

After her visit, the girls and women she had interviewed and shot on camera went to the Anganwadi centre to complain. "They finally came two weeks later, the women from the Anganwadi… They went to all the homes and gave out 30 iron tablets to all the teenage girls. They also called them for a training…they taught them about periods and how to be careful during pregnancy," says Sunita. "I feel very happy because I was able to help so many women. I want to continue making them aware of things they should be getting."
Watch Video


Trending Now: