Anna Hazare to fast-unto-death demanding strong anti-corruption law

Kavita Kanan Chandra
&nbsp | &nbsp Mumbai
21-March-2011
Vol 2&nbsp|&nbspIssue 11
Continuing his campaign against corruption, social activist and Gandhian, Anna Hazare, has planned to go on a fast-unto-death agitation from April 5 in New Delhi in support of his demand for a strong anti-corruption law in the country. Hazare has the backing of some of the well-known activists in the country, including Kiran Bedi, Swami Agnivesh, Shabana Azmi, Medha Patkar, Akhil Gogo and several others, many of whom would be addressing a public meeting at Nare park in Mumbai on March 30.

Hazare's 'India Against Corruption' (IAC) campaign has mobilised support from activists around the country. In many places, volunteers plan to observe token fasts on April 5 to express their solidarity with Hazare, who would commence his fast-unto-death in New Delhi that day.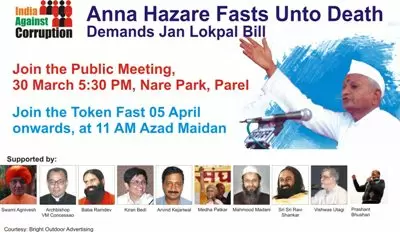 Activists in Mumbai plan to create awareness on the campaign by distributing leaflets, badges, and placards that would have slogans like 'I am for India Against Corruption, Are you?' On March 18, activists held anti-corruption protests at many places in Mumbai.

On March 7, a group of civil society activists led by Hazare had met Prime Minister Manmohan Singh and presented a draft proposal for an effective anti-corruption law. But the PM was not favourably inclined to the group's suggestions on the Jan Lokpal (Citizen's ombudsman) bill. After the failed meeting with the PM, Hazare gave a call to intensify the agitation.

According to IAC activists, lakhs of leaflets, stickers, fasting badges, placards, and flags are currently being distributed all over Mumbai, Navi Mumbai, Thane, and Bhayandar.

"There is need for a strong law to investigate, prosecute, and punish corrupt people. The existing Lokpal Bill is totally inadequate and requires some modifications based on the recommendation of civil society groups," said Praful Vora, Coordinator of Mumbai's India against Corruption.


Trending Now: