A video exposing corruption in school bring relief to students

India Unheard
&nbsp | &nbsp Goa
18-March-2011
Vol 2&nbsp|&nbspIssue 11
The Weekend Leader recently carried a report on India Unheard, the country's first community based news service being run by the Goa based NGO, Video Volunteers. This is the first in a series of India Unheard impact stories that will be published in The Weekend Leader by a special arrangement with Video Volunteers. Editor

Mukesh Rajak, a community correspondent for Goa based, Video Volunteers' India Unheard program, has made an impact in his community with his video 'Pay Bribe, Take Education.' The video made the local administration take action against a school that took bribes from students.
It was Mukesh's first video for India Unheard. In this video he highlighted one of the most serious issues within his community: corruption in schools. He interviewed locals who complained that teachers in their village school were demanding bribes from students. Later, Mukesh also interviewed the headmaster of the same school who admitted to accepting money, but insisted that students paid it 'happily'. After this video was published in IndiaUnheard, Video Volunteers' team in Goa sent Mukesh a DVD of it, along with the print out of the article that was published alongside the video.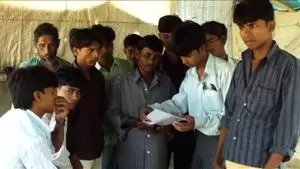 Community Correspondent Mukesh Kumar with the angry villagers of Jagdishpur who had to pay bribes to the village school. Mukesh wrote an application on their behalf for submitting to the Block Education Officer
In September, 2010, Mukesh took this copy to the local government education office. He met the government official who was in charge of education in his area and told her about the corruption in his village. As a proof, he presented the DVD to the official. Two weeks later, on October 12, the government official informed Mukesh that the headmaster of Jagdishpur village had been removed from his post and demoted to a teacher's rank.

The official had also ordered the school to immediately stop taking any bribes from students. As a result, about 700 students at the Jagdishpur village school wrote their terminal exams without paying any bribe.
Says Mukesh, 'The fact that I had proof on video helped the Block Education Officer take action. I feel happy that I was able to speak for my community. I am also happy to see that the children in Jagdishpur village can now attend school without paying for things they can't afford and shouldn't have to pay for."
Watch Video


Trending Now: